Back to All events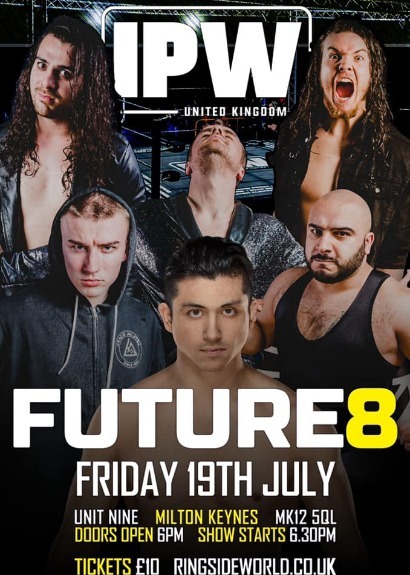 Event
IPW Presents Future 8
When / Where
19th July 2019
Doors open: 6:30pm
Unit Nine Milton Keynes, 9 Bridgeturn Ave, Wolverton, Milton Keynes, MK12 5QL
Event Description
Featuring Former WWE Cruiserweight Champion TJP
Please note the event line up is subject to change.
Promoter reviews
IPW International Battle Royale
"
Truly Amazing show the depth of talent on the IPW roster is outstanding and the future is bright.look out for advertised shows and get tickets and see for yourself, British Independent Wrestling is safe in the hands of IPW.
"
Reviewed on 26/03/2019
IPW & NOAH Present Junior Heavyweight Tournament
"This was my second time attending an IPW Event @ Unit nine and won't be the last rnrnDespite the size of the venue the atmosphere created by those in attendance and the interaction of those performing is incredible and something so called bigger promotions can learn from"
Reviewed on 17/01/2019
IPW Milton Keynes: Jimmy Havoc's last stand
"
IPW at Unit Nine is always such a great event! The staff, performers and crowd are all friendly and welcoming and there is never any issues with crowd not getting along! Atmosphere is always loud and electric! 100% recommend this to anyone who has not been as it's a cheap night out with lots of laughs and banter
"
Reviewed on 15/03/2019
IPW: THIS HAS TO END
"Small in size but massive in atmosphere Another Great night @Unit9"
Reviewed on 03/05/2019
IPW International Battle Royale
"
Another fantastic Maidstone show from IPW! 6 great matches plus the International Battle Royale which is always good fun. If you get the chance to see IPW in either Maidstone or Canterbury then I would fully recommend going, you won't regret it!
"
Reviewed on 26/03/2019
IPW TV Taping Milton Keynes
"
As always a great ipw show in Milton Keynes. A few teething problems with gaps in show for tv taping but I'm sure billy and the team will sort these minor issues quickly, get down to unit 9 and see for yourselves
"
Reviewed on 20/01/2019