Back to All events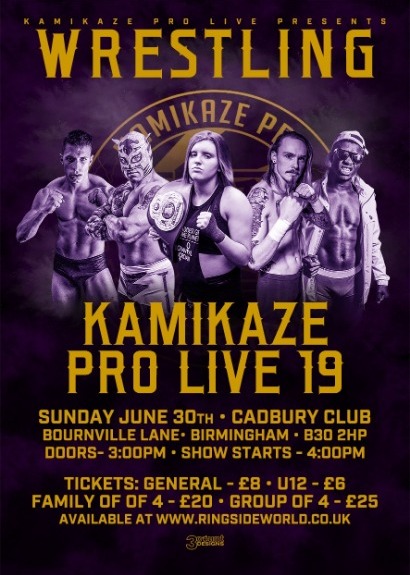 Event
Kamikaze Pro Live 19
When / Where
30th June 2019
Doors open: 3:00pm
The Cadbury Club, Bournville Lane, Birmingham, B30 2HP
Promoter reviews
Kamikaze Pro Live 15
"A great show featuring kamikaze stars of tomorrow."
Reviewed on 16/10/2018
Kamikaze Pro Presents Over The Top 3
"Fantastic show, value for money and great entertainment. Seriously nothing I could add as a suggestion for improvement "
Reviewed on 29/03/2016
Kamikaze Pro Presents Bank On It 6
"No complaints!"
Reviewed on 22/11/2018
Kamikaze Pro Presents Shots Fired
"I love kamikazie always a friendly atmosphere and great to bring children.theres a free car park at the back of the Cadbury club. "
Reviewed on 10/03/2018
Kamikaze Pro Presents Underground III
"This was my first Kamakzi pro show. I wasn't expecting much if honest and only booked as I wanted to see Colt Cabana. I was really pleasantly surprised how good the show was. The Heavyweight title bout between Mikey Whiplash and Clint Magera absolutely stole the show. I'll definitely be going to more Kamakzi Pro events going forward."
Reviewed on 07/02/2017
Kamikaze Pro Live & Nothing But Wrestling Presents Winter Warfare
"Show was fantastic and venue is great wonderful start to Christmas"
Reviewed on 24/12/2018