Back to all star bios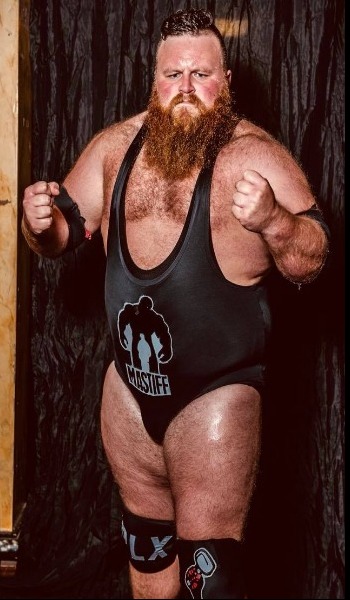 Name
Dave Mastiff
Height
5ft 10
Weight
315 lbs
From
The Black County
Signature Moves
Discus Lariat
Companies
PCW, Allstar Wrestling, Pro Wrestling NOAH, PWE, NGW, RPW, ATTACK! Pro Wrestling, FutureShock, 4FW, Fight Club Pro, PROGRESS Wrestling, IPW:UK, Wrestle Midlands, Triple X Wrestling, Pro Evoluton Wrestling, ACW, SWE, GPW, BCC, BAWA, SWA, FWA, AWW, DWA, OVW, Celtic Wrestlin, SAS Wrestling, 1PW, Pro Championship Wrestling, AMP, Premier Promotions, SWCW, Italian Championship Wrestling, RQW, 3CW, BHW, NBW, Future Championship Wrestlin, HEW, WXW, RBW,
Career Highs
ACW World Wrestling Champion, AWW Heavyweight Champion, BCC Champion, IPW:UK British Tag Team Champion, RPW British Heavyweight Champion, RQW Tag Team Champion
Referred to as a B word by some, many more would refer to Dave Mastiff as the most talented big man in British Wrestling. His mere presence is enough to strike fear into just about anybody. However do not let this fool you into thinking that Dave Mastiff won't be able to catch his opponent as for a man 300 lbs he is very quick and agile.
The man known as "The Human Hate Machine" has stepped in the ring with people such as Chris Masters, Michael Elgin, Doug Williams, Johnny Moss, El Ligero, Mark Haskins, Kris Travis, Dean Allmark, Martin Kirby, Lionheart, Doug Basham, Drew McIntyre, Zack Sabre Jr and more. Mastiff has also gone on to challenge MASADA for the CZW World Heavyweight Championship.
Dave Mastiff has also made acomplishments outside of Great Britain competing in places such as Germany, Italy, USA and many more countries and even competed in former WWE Developmental terratory OVW
If anybody wishes to see a wrestling show in which one man will completely obliterate his opponent then look for one with Dave Mastiff on the card.