Back to all star bios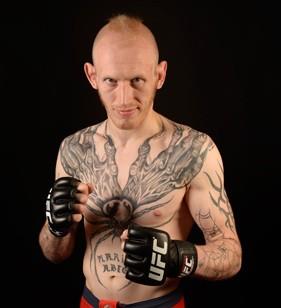 Name
Colin "The Freakshow" Fletcher
Height
6.2
Weight
155lbs
From
Sunderland, UK
Companies
UFC
Career Highs
2012 - Star and finalist of The Ultimate Fighter - The Smashes : Team UK vs Australia 2010 - Won Total Combat European Lightweight Championship 2010 - Won Strike and Submit British Welterweight Title
Colin "The Freakshow" Fletcher is a 8-3-0 lightweight fighter who is famed throughout the UKMMA scene for not only his devastating submission game, unorthodox yet effective striking game and willingness to take the fight to his opponent no matter who it is he is facing, but also for his bizzare and wacky demeanour outside of the cage too with his interviews and ring entrances.

Since making his professional debut in 2008 he has gone from strength to strength and has looked a more improved fighter every time fans have got to witness him in action. His career began on local show Total Combat and he has gone on to become one of the stars in one of Europe's biggest and best organisations, BAMMA.

In his last bout Colin showed the world that he is not just an outstanding grappler with an array of great chokes, but a striker to be feared. He demonstrated this by defeating top 10 ranked fighter Jason Ball who was not only a great mixed martial artist but also a highly successful active professional boxer. This win has caught the attention of a lot of people and Colin cannot wait to progress further in his career on the back of it.