Event Description
Matches Already Announced:
"The Product" David Starr vs Gabriel Kidd

Six-Man Tag Team
The Joseph Conners Experience Feat El Ligero & Bob Holly vs GBH (Kip Sabian, Robbie X & Blake)

Fatal 4-Way
Facade vs Ricky Knight Jr vs Chris Tyler vs Sean Kustom

"The Apex Of Agility" Andrew Everett vs Senza Volto

Rosemary vs Kay Lee Ray

The Filthy Kliq (BT Gunn & Stevie Boy) vs The UK Hooligans (Roy & Zak Knight)
Promoter reviews
Southside Wrestling Presents Day of Reckoning 6 & Menace II Society V
"two cracking shows, as usual . other than price, nothing that could be done to improve the shows. we will do every Nottingham show we are available for and can afford . "
Reviewed on 13/08/2015
Southside Wrestling Presents Day Of Reckoning 16 & Speed King 2017
"Good show no problems ,seats were at same place as last time.had good time there With granddaughter,will be going to next one."
Reviewed on 08/05/2017
Southside Wrestling Presents Queen Of The Ring & Ill Manors 2017
"Absolutely loved it, great matches, atmosphere, venue was great, even provided hot drinks. Only had note was, it was cold but I'll just wear more layers in Feb. Definitely a regular now xx "
Reviewed on 27/11/2017
Southside Wrestling Presents Battle Of Egos 7
"I have found everything awesome. The night was entertaining, i was excited all the time. Every match had something special and i felt that the whole show has been put together with great care. If there was any bad part, i did not notice it. I will definitely be there in the next occasion. David Liesinger"
Reviewed on 07/02/2017
Southside Wrestling Presents Let's Kick Cancer To The Curb
"It was a fantastic experience. Have only ever been to one other wrestling event and I found this to be very entertaining and professional. The guys (and girls!) Put on a brilliant show in what were very difficult circumstances - well done to all involved. The balance of wrestling action and audience interaction was spot on. "
Reviewed on 02/04/2016
Southside Wrestling 5th Anniversary Show
"best show yet,we travelled 220 miles for this and was worth every yard,well impressed with Austin aries,looking foreward to the tenth anniversary show,just a mention of my sons hero trevor lee "outstanding""
Reviewed on 26/10/2015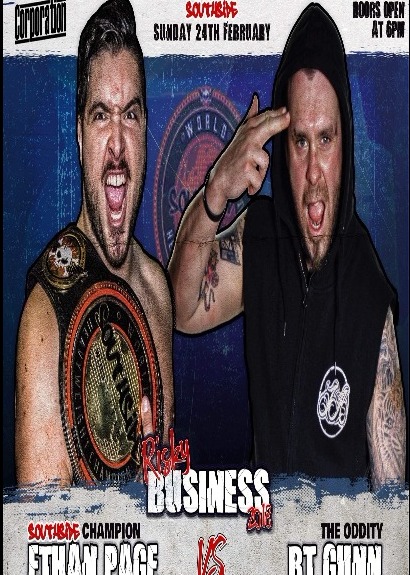 Southside Wrestling Presents Day Of Reckoning 19 & Risky Business 2018
MORE INFO +
TICKETS