Back to All events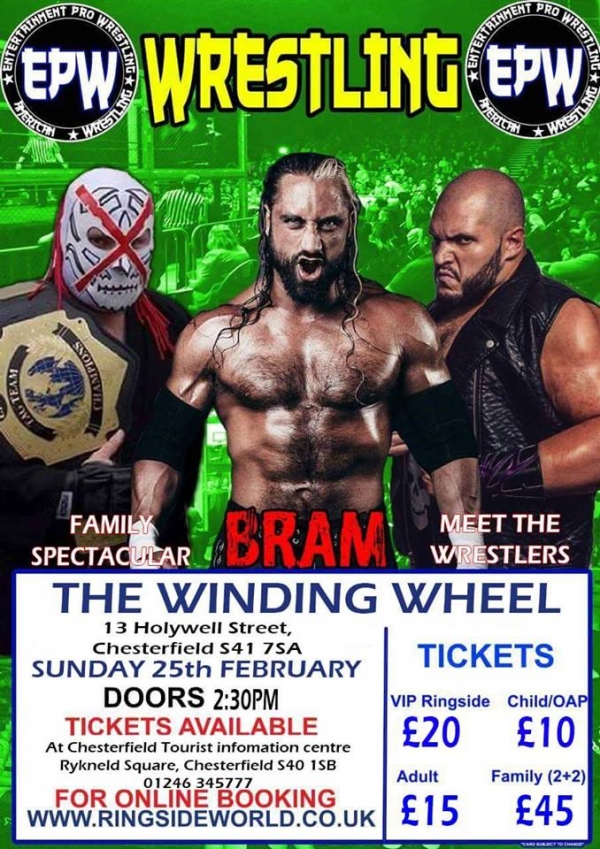 Event
2018 AMERICAN WRESTLING EPW CHESTERFIELD
When / Where
25th February 2018
THE WINDING WHEEL CHESTERFIELD, 13 Holywell St, Chesterfield, S41 7SA
Event Description
TOP CLASS WRESTLING ACTION, TO FEATURE LOCAL WRESTLING SUPERSTAR BRAM!
Promoter reviews
AMERICAN WRESTLING EPW DEWSBURY
"fantastic............. kids loved it well worth the money ,will be going again when back at deswsbury ."
Reviewed on 29/10/2016
AMERICAN WRESTLING EPW DARLINGTON
"Absolutely brilliant would go there again next year"
Reviewed on 03/12/2016
AMERICAN WRESTLING EPW CHESTER
"It was my lads first live wrestling event and he LOVED it. His favourites were Magnus and Pyro, Pyro for me stole the show he is definately one id like to see again"
Reviewed on 22/03/2017
EPW THORNABY
"This show was really good my son absolutely loved it. The wrestlers really got the crowd involved and it was non stop action from start to finish. Would definately recommend this to any wrestling fan."
Reviewed on 17/11/2015
AMERICAN WRESTLING EPW ALFRETON
"I thought the show was very good,The only thing I thought that let it down was that the matches were not as long as they could have been. I know you would have had a certain time limit so I suppose that would be the reason behind the short matches. It would have been nice to vary the matches a little more, Like have a street fight or something like that. All in all it was a good night out and my son enjoyed every minute of it. "
Reviewed on 22/05/2016
AMERICAN WRESTLING EPW DARLINGTON
"Fantastic show,as always.really enjoyed it.plus I won the raffle prize of a family ticket for next time! My only criticism is why not sell merchandise featuring their own wrestling stars instead of the wwe ones?! I'd certainly buy a"Bubba D" t shirt!!"
Reviewed on 04/04/2017