Back to All events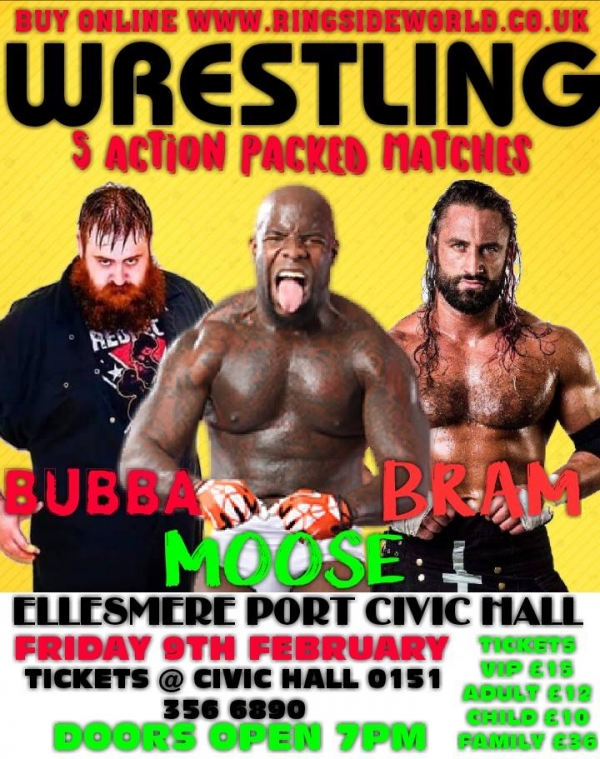 Event
2018 AMERICAN WRESTLING EPW ELLESMERE PORT
When / Where
9th February 2018
ELLESMERE PORT CIVIC HALL, Civic Way, Ellesmere Port , CH65 0AZ
Event Description
TOP CLASS WRESTLING ACTION
Promoter reviews
2018 AMERICAN WRESTLING EPW REDCAR
"Epw in redcar 11th feb 2018 was a really good show. Went with my nephew, 2 friends and there 2 sons our 1st Epw event. Really good time everyone really enjoyed the wrestling action, meeting wrestlers back stage was really cool. Been asked already about April's event in Coulby Newham. Will be going to another Epw event in very near future. Much repect and hard work by everyone in Epw.Thanks for putting your body's on the line and entertaining us!!"
Reviewed on 14/02/2018
EPW CHESTERFIELD
"What can I say all the family had a great time haven't enjoyed ourselves well organised value for money would definitely go again."
Reviewed on 20/10/2015
AMERICAN WRESTLING EPW BEBINGTON
"Took my stepson's (twins) for their birthday.. They loved it!!! The atmosphere was great watching all the kids so excited.. The rumble finale was the talking point all the way home.. They can't wait to go again.. The wrestlers good or bad played their part well particularly Goliath.. even I was a little afraid of him!! It was a great value evening out.. already looking for shows near leicester for them to go again."
Reviewed on 16/05/2016
AMERICAN WRESTLING EPW STANLEY
"It was a good show my son loved it and I thoroughly enjoyed it myself well worth it. I'll definitely be coming again next time."
Reviewed on 19/10/2016
AMERICAN WRESTLING EPW RIPON
"My husband and stepson went to watch you on Friday night and they loved it. Everything form a high five to 'give em the chair'! Great entertainment and familey fun"
Reviewed on 06/06/2016
AMERICAN WRESTLING EPW HEREFORD
"I came along with my little brother who is a massive wrestling fan especially TNA an WWE so for him to get to meet bram (James Storm tag partner in TNA apperently) really made his day. He is autistic so for him to stay the whole show was something special. Thank you all for an amazing time "
Reviewed on 06/09/2016