Back to All events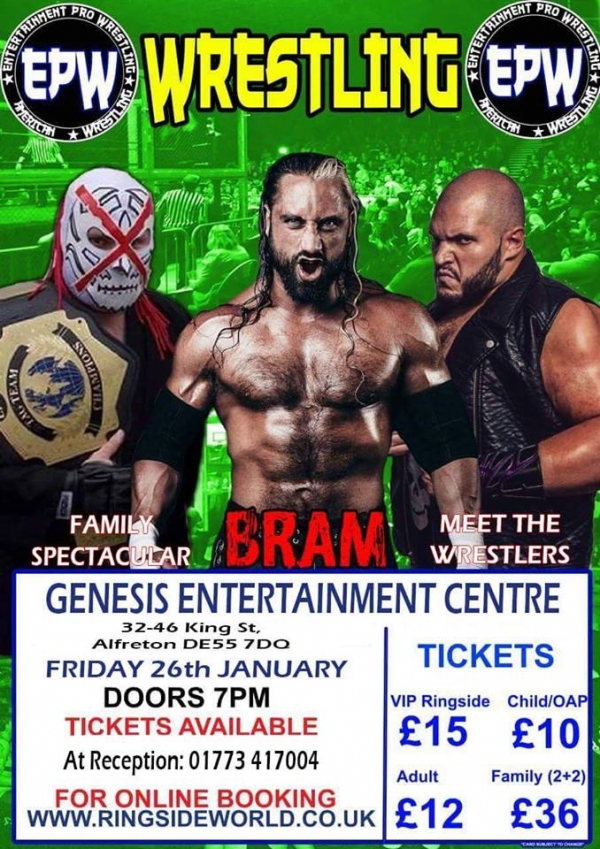 Event
2018 AMERICAN WRESTLING EPW ALFRETON
When / Where
26th January 2018
GENESIS ENTERTAINMENT CENTRE ALFRETON, 32-46 King St, Alfreton , DE55 7DQ
Event Description
TOP CLASS WRESTLING ACTION
Promoter reviews
EPW SALTBURN
"My son especially enjoyed it and has won the raffle twice to come back next time September I had fun to , the only thing that let it down was the cost I paid a fiver for him to go and get there name signed on the book and I went to get a photo but to do that I had to paid a fiver to go through which I didn't would of been nice if parents can't get a photo then a group photo of wrestler and child should be included on that cost thanks joanne "
Reviewed on 30/08/2015
AMERICAN WRESTLING EPW MIDDLESBROUGH
"Fun night for youths and children. Good wrestling and fantastic for kids..great all round family entertainment...I'll definately go back and take the wife !"
Reviewed on 18/12/2016
EPW HARROGATE
"Thoroughly entertaining few hours for both the kids and big kids alike. Shall be attending the next show and looking forward to it."
Reviewed on 30/09/2015
AMERICAN WRESTLING EPW HARROGATE
"Hi it was fab the kids are still talking about it .Keep up the good work Regards Keith"
Reviewed on 25/10/2016
EPW SPENNYMOOR
"I actually got tickets for my nephews so didn't attend but they had a brilliant time. And they won more tickets for another venue. Big thumbs up from them"
Reviewed on 15/10/2015
AMERICAN WRESTLING EPW CONGLETON
"This was my first time at American wrestling , I came with my grandson Caleb we both had a great time , the event was well organised and we will visit next time many thanks k Wilshaw "
Reviewed on 04/04/2016