Event Description
Matches Already Announced:
King Of Chaos Championship Match
Dick Riley (c) vs Eddie Dennis
Maiden Of Chaos Championship Match
Jinny (c) vs Shax
Joel Redman vs Mike Bird
Chuck Mambo vs Wild Boar
***CARD SUBJECT TO CHANGE***
***NO REFUND POLICY***
Policy on special requirements:
All our venues are accessible to disabled customers. Our policy details can be found here: http://www.prowrestlingchaos.com/chaos-for-everyone/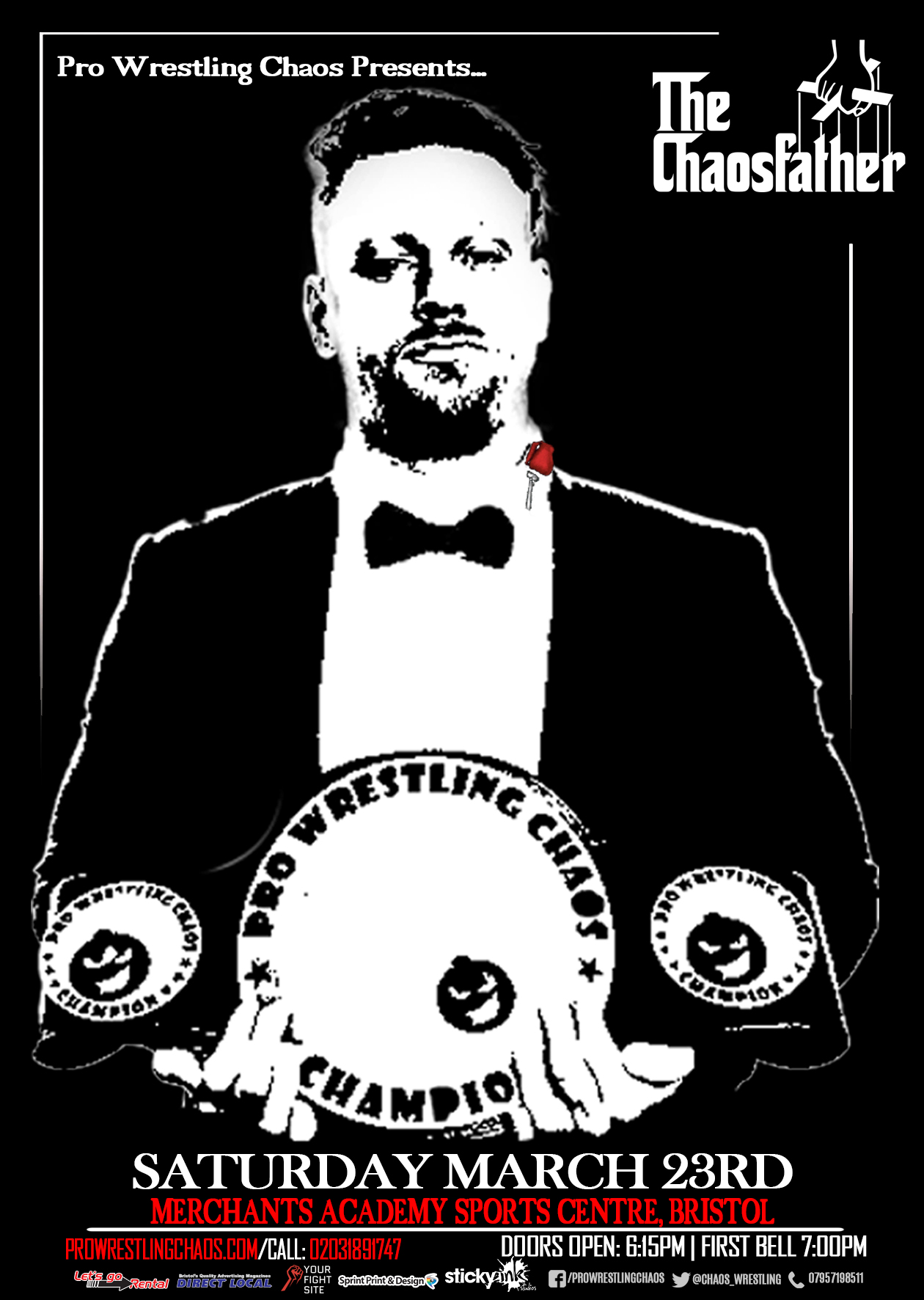 Please note the event line up is subject to change.
Featured Wrestlers
Promoter reviews
Pro Wrestling Chaos: Total Chaos 2016
"Brought me 9 year old son and his friend as part of his birthday treat, they absolutely loved every minute of it . They are both really excited about coming again. We will definately be booking to come again. Very well organised and wrestling was very professional . Only one thing , my son and his friend were dissapointed as they only had 1 age 9-11 t shirt available, however he was able to spend his birthday money on something else and hopefully be able to buy one next time .. many thanks from all of us for a fab night x mrs parsons and family x "
Reviewed on 23/05/2016
Pro Wrestling Chaos: Chaos B Ballin'
"Had an awesome time again on Saturday with you guys at chao's love come can't wait till the next "
Reviewed on 20/02/2017
Pro Wrestling Chaos: The Hungerford Games
"Was amazing and hilarious I took my boyfriend as a nice surprise and we both loved it it was a lovely little atmosphere chanting and just watching the matches, Eddie and Alex were our favourites we would define let go again it's something we wouldn't miss out on !!"
Reviewed on 26/09/2016
Pro Wrestling Chaos: Heir 2 The Throne
"Was blown away, didn't know what to expect, but was very action packed, loved how they fought outside the ring too, will definitely be going to the next show in May at yate leisure centre, if I had a negative comment it would be, from match to match it could have been a bit slicker, there where pauses which could have been prevented, overall a fab night... looking forward to the next one"
Reviewed on 11/04/2016
Pro Wrestling Chaos: Hero/Dennis 2
"Friendly staff, got in on time and without any hassle. Wrestling was just immense as usual. Thankyou so much for doing this time and time again, keep up the good work!!!"
Reviewed on 25/07/2016
Pro Wrestling Chaos: Let Them Eat Chaos
"Fantastic show from the guys at Chaos Can't wait for the next one in January keep up the good work guys "
Reviewed on 29/11/2016