Back to All events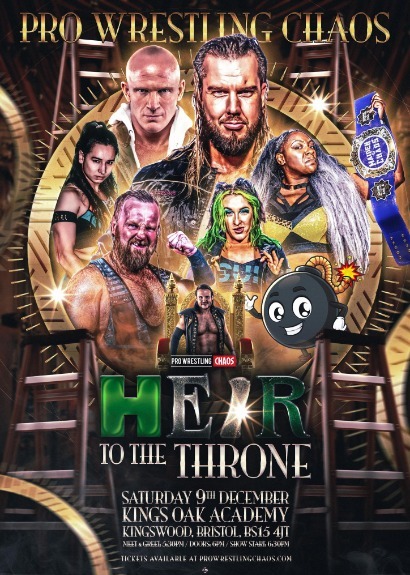 Event
Pro Wrestling Chaos Presents Heir to the throne 2023
When / Where
9th December 2023
Doors open: Meet and greet 5.30pm / Event Doors 6:00pm
Kings Oak Academy, Brook Road, Kingswood, Bristol, BS15 4JT
Promoter reviews
PRO WRESTLING CHAOS - Organised Chaos
"Fantastic show from start to finish, all staff friendly and helpful, every show is like a massive family get together, CHAOS FAMILY, best local Indy show going well done all involved"
Reviewed on 26/07/2022
Pro Wrestling Chaos Presents Dont Be A Menace To Chaos While Drinking Your Haze In The Wood
"Hi, Fourth time for me and my 11 old son to a Chaos event and as always a great night out. Plenty of parking spaces which is good. The room itself was really good to watch the wrestling, we were three rows back and so very close to the action. I think for us that's a massive bonus, you are so close to the wrestlers which at a WWE event is not the case unless you buy expensive tickets. For us, we preferred the start time of 6.30 rather then 7. All matches were at the right length with the last match being the highlight of the night. Seeing just one of following: the jump from the balcony, going through the table or use of the stick would of good but seeing all three made it a special match. Fair play to both wrestlers for putting on a great match. Whenever we can we try to come and will do so again. Cheers Julian Hember from Bradley Stoke."
Reviewed on 14/01/2019
Bro Wrestling Chaos: UnBroLievable
"ur shows are always amazing i wud rather attend ur show then any others always full of energy friendly people and always have a great laugh and a loud croud x "
Reviewed on 05/06/2017
Pro Wrestling Chaos: Jumpers for Ringposts
"Was a lovely evening my boy and dad very much enjoyed it."
Reviewed on 30/04/2018
Bro Wrestling Chaos: UnBroLievable
"Incredible event every match was amazing. Can't wait for the next one. "
Reviewed on 05/06/2017
TOTAL CHAOS 2023
"Fantastic event"
Reviewed on 11/09/2023