Back to All events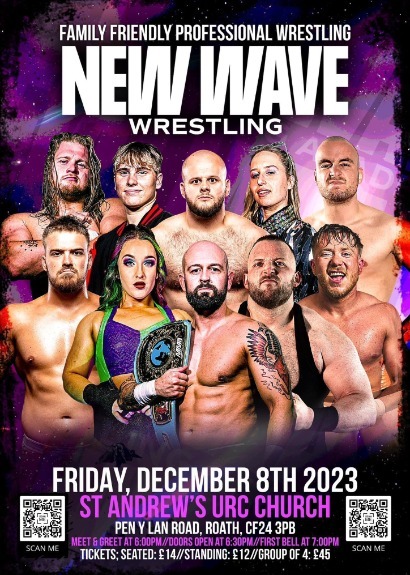 Event
New Wave Wrestling Live
When / Where
8th December 2023
Doors open: Preshow Meet & Greet 6:00pm / Event Doors 6:30pm
St Andrew's URC Church, Pen Y Lan Road, Roath, CF24 3PB
Promoter reviews
New Wave Wrestling Live 8
"Very very good show enjoyed the whole thing amazing young talent on the show the future is so bright. Was feeling tired by the main event so maybe one match to long but overall still very fun"
Reviewed on 16/07/2023
New Wave Wrestling Academy
"WOW had a FANTASTIC time, great show every wrestler gave it their best, will definitely travel to shows in the future as long as it don't clash with our other favourite promotion. One final thing thank you for serving tea and coffee ."
Reviewed on 13/09/2022
New Wave Wrestling Academy Live
"Our first time at one of your shows and we all thought it was excellent all of the stars were amazing we thoroughly enjoyed the night will definitely be attending more shows keep up the great work"
Reviewed on 27/11/2022
New Wave Wrestling Live
"
Great show we especially loved some of the matches like the match with the sixteen year old and he is so young and he did brilliantly, and the same with most of the other matches we especially enjoyed when Elijah won the title, that match was our favourite.
"
Reviewed on 28/05/2023
New Wave Wrestling Live 8
"
The show itself was absolutely incredible. Every match was amazing and the crowd was great. Other wrestling promotions need to take lessons from New Wave. The pre show meet and greet worked brilliantly, it was relaxed and the Wrestlers were all so polite and chatty. Which made a big impact on my shy little 4 year old. My favourite thing about the whole night, every single person in there felt appreciated and it had a 'home crowd' feel. You can tell Brendan really believes in it, and that bleeds through to everyone. 10/10 would recommend.
"
Reviewed on 16/07/2023
New Wave Wrestling Academy Live
"Possibly the best New Wave show yet! A thirty man Rumble got everyone in the room invested fully in the match and shouting for their favourites as we all waited to see who would be crowned the inaugural New Wave Champion... and I can honestly say, I don't think anyone was expecting the result.rnNew Wave does it time and time again, bringing newer talent into the spotlight and getting the fans behind them."
Reviewed on 29/01/2023