Back to All events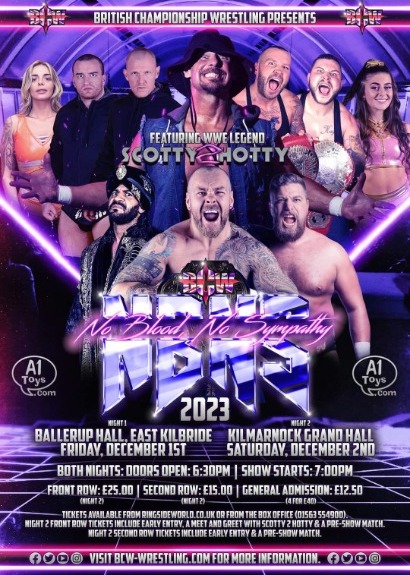 Event
BCW No Blood, No Sympathy - Kilmarnock
When / Where
2nd December 2023
Doors open: 6:30pm
Kilmarnock Grand Hall, London Road, Kilmarnock, KA3 7AA
Promoter reviews
BCW Live In Kilmarnock
"It's the first time attending the BCW didn't know what to expect. Was really impressed although thought the first two fights were quite funny. I took both my nephews who are 8 and 10 they both had a fantastic time, enjoyed the interaction between the wrestlers and the crowd. Very excited meeting the wrestlers after the show. Will definitely be coming back next time will hopefully know early enough to book ringside tickets."
Reviewed on 11/04/2022
BCW Live In East Kilbride
"I purchased the tickets for my son and his carer, he has complex learning difficulties, and loves wrestling. He enjoyed the event and one of the wrestlers even took time to have a picture taken with him and my son was delighted as he got his belt to look after for the picture rnrnGlad to see the event back again, and I am sure my son is looking forward to next one."
Reviewed on 25/06/2023
BCW Live In Kilmarnock
"Brilliant night out xx staff were friendly and helpful as usual and stars were amazing xxxx highly recommended for a great family night out xxx"
Reviewed on 23/04/2018
BCW 20th Anniversary Show
"
Hi it was my families first time attending a wrestling event and we loved it my son especially getting to meet grado and getting a picture too. We thought the whole event was very well set up and the staff were great very helpful we would definitely attend it again thanks
"
Reviewed on 11/04/2023
BCW Live In Kilmarnock
"Excellent show great family night out all staff and owner amazing good to see some great audience and hall packed all wrestling stars was excellant talent and as always great with kids and the show"
Reviewed on 11/04/2022
BCW Presents BELIEVE - A Night In Memory Of Lionheart
"Was a fantastic night from start to finish. Very well organised."
Reviewed on 25/08/2019