Back to All events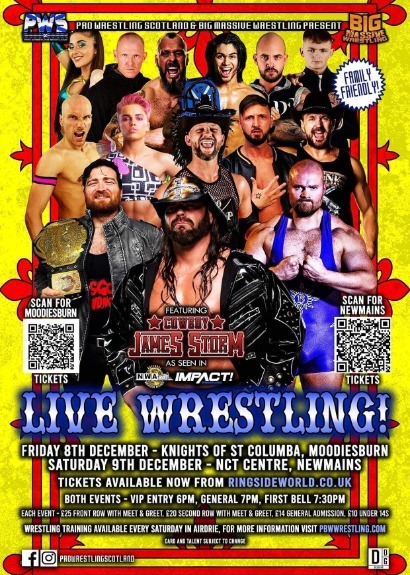 Event
Pro Wrestling Scotland Live
When / Where
8th December 2023
Doors open: 7:00pm
Knights Of St Columba, Blackwoods Cres, Moodiesburn, Glasgow, G69 0EN
Promoter reviews
Pro Wrestling Scotland Live In Douglas
"Enjoyed the evening"
Reviewed on 03/03/2020
Pro Wrestling Scotland Live
"
What a great show. My daughter loved it so much that we went back again on the Sunday and just paid at the door. She even talked her 82 year old papa into coming on the Sunday and he loved it as well. A show that hooked a 7 year old, 82 year old and everyone in between. When arriving on the Sunday we mentioned that we had been there on the Saturday. Just before first bell TJ Rage approached us and said that as we had been there on the Saturday and he really appreciated us coming back and supporting the promotion, we could move to the front row. This was a classy touch and very much appreciated. My only criticism, and it's not even really a criticism, is that I thought Krieger would have milked his win a bit more. Looking forward to coming along to the next show in December.
"
Reviewed on 29/09/2022
Pro Wrestling Scotland Live
"
This is the second time we've came to the show in Newmains and myself and the kids absolutely loved it. There is great energy and the crowd interaction from the wrestlers really gets the kids fired up. Disappointed that the next show in Newmains isn't until December but we will definitely be looking to go to shows elsewhere in the mean time. Great show!
"
Reviewed on 06/03/2023
Pro Wrestling Scotland Live
"
Fantastic entertainment from start to finish. Took my grandson who absolutely loved it, he even got to look after the wrestlers belt for the main event, thanks to everyone for making this wee boy's night. We will definitely be back as my grandson has lots of new heroes to cheer.
"
Reviewed on 06/03/2023
Pro Wrestling Scotland Live
"i thought the show was great entertainment. the individual bouts were excellent funny with some good wrestling also. the only thing that i didnt like and maybe im getting old lol but i thought the music was too loud as we waited for the show to begin. otherwise it was excellent and il definitely be back. there was a few young kids there and you could see they loved it by getting involved booing the bad guys and cheering the good guys. overall it was a great night."
Reviewed on 11/09/2022
Pro Wrestling Scotland Live
"Brilliant show, myself and my little boy enjoyed it! Will definitely be back. Thank you"
Reviewed on 27/09/2022