Back to All events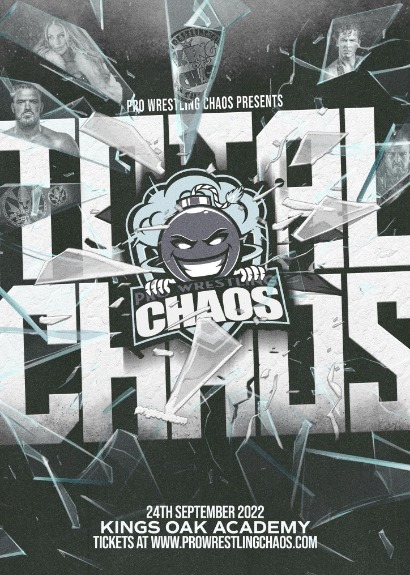 Event
Pro Wrestling Chaos - Total Chaos
When / Where
24th September 2022
Doors open: Meet & Greet 5:30pm / Event Doors 6pm
Kings Oak Academy, Brooks Road, Bristol, BS15 4JT
Promoter reviews
Pro Wrestling Chaos: Everyone Must Stand Alone
"Our 1st time at a live wrestling event, and we thoroughly enjoyed it! Kids and adults alike. Would definitely go again can't wait! Loved how they wound the audience up and got everyone chanting and cheering. A great evening."
Reviewed on 08/02/2016
Pro Wrestling Chaos 18
"WHAT. A. SHOW. Kicked off with a fantastic surprise - Mark Andrews answering Morgan Webster's challenge. Having those two stars go on first and then being able to follow that quality highlighted a great card and a stacked roster. Ciampa was so entertaining. Including the fan who was celebrating his birthday in the Kirby v Jinny match shows what a great promotion Chaos is. Rhyno facing off against Big Grizzly in the six-man was brilliant - I want to see them go one on one. The Rumble may well have been the most fun I've had at a wrestling show and I've been to wrestling shows across Wales, Bristol, the Midlands and London in the last year. Finally Boar vs Bird was epic! Up there I think with Dennis v Hero and Andrews v Ospreay as my favourite 3 matches of the year! Two out of three of those were at Chaos! "
Reviewed on 07/12/2015
Pro Wrestling Chaos 18
"Pro Wrestling Chaos 18 was a good show and I enjoyed it. If I had one little nitpick it was the way the rumble was done. We didn't know how many participants were in the match and therefore didn't know who the last entrant was until a few minutes had passed and no one else had come out. I also felt the rumble was slightly rushed and could have done with an extra 30 seconds or perhaps even a minute between entrances. Apart from that it was a fun show with the most enjoyable match being Tomasso Ciampa vs Jeckel. Having Mark Andrews as a mystery opponent for Webster was a great surprise too. This was my 4th Chaos show in a row and no doubt it won't be my last! Keep up the good work guys and gals!"
Reviewed on 07/12/2015
Pro Wrestling Chaos Presents Total Chaos
"Cracking evening of Pro Wrestling Chaos loved the atmosphere of this venue seconded time at the Kings Oak Academy. Women's main event was great to see four individual women go for the Maiden of Chaos. Would like to see a royal rumble that would be absolute chaos up to 10 wrestlers! Head to head last one standing."
Reviewed on 29/04/2019
Pro Wrestling Chaos Presents The Chaos Element
"Awesome night great matches love come to watch rnCan't wait for the next one"
Reviewed on 15/10/2018
Pro Wrestling Chaos: Let Them Eat Chaos
"My son and husband went to November, my son loved it his face when I came home and told me all about it, he's even saving his pocket money so he can go to more after Xmas "
Reviewed on 28/11/2016