Back to All events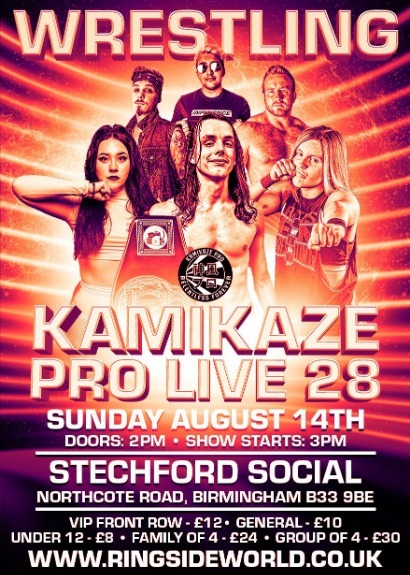 Event
Kamikaze Pro Live 28
When / Where
14th August 2022
Doors open: 2pm
Strechford Social, Northcote Road, Birmingham, B33 9BE
Promoter reviews
Kamikaze Pro Live
"Hiya your show on Sunday was fantastic and you made my son very happy when he heard his name, it was fab value for money and a great family day out, we all enjoyed it very very much and will defiantely attend when we can and we will recommend to friends fantastic and fun "
Reviewed on 12/04/2016
Kamikaze Pro Presents Frost Fight 3
"Kamikaze Pro events have always been fun to attend and full of action and this was no different. With its stable of taleted young up and coming wrestlers to the ability to attract super star names from across the world this promo has the recipe to be not just No.1 in Birmingham but possibly in the UK. This was my third event and certainly wont be my last."
Reviewed on 01/12/2015
Kamikaze Pro Presents Conspiracy Theory!
"Had a brilliant at kamikaze pro conspiracy theory they allways now how to entertain the fans they have i loved the fact one of the wrestler sat on me which was cool "
Reviewed on 28/09/2016
Kamikaze Pro Presents Underground IV
"It was a great show all round. I particularly enjoyed the tag match with star talent+Clint Magera vs bigger picture, Keith lee i also thought was really entertaining. "
Reviewed on 04/02/2018
Kamikaze Pro Presents Bank On It 7
"The best card i have ever watched. It had it all. Matches were all excellent for there own reason."
Reviewed on 24/09/2019
Fighting Females Wrestling & Kamikaze Pro Present Rise Of An Empress
"Rise of an Empress was quality. The whole event was well presented and I can't wait for the next show!!!"
Reviewed on 16/04/2019