Back to All events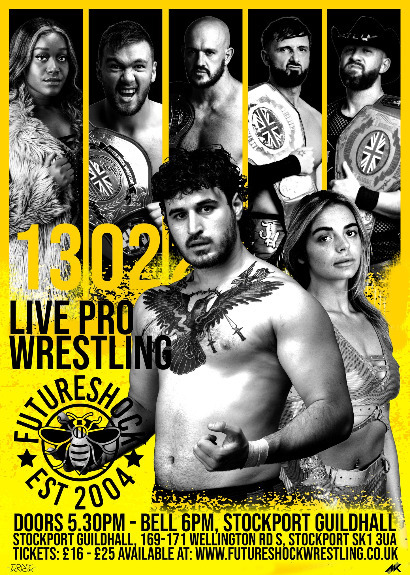 Event
FutureShock 181
When / Where
13th February 2022
Doors open: 5:30pm
Stockport Guildhall, 169-171 Wellington Rd S, Stockport , SK1 3UA
Promoter reviews
FutureShock Uproar 107 - Live from Stockport Town Hall.
"Fantastic this is my second visit and many more to come hopefully thankyou"
Reviewed on 16/07/2019
FutureShock Wrestling: Underground 34 - The 15th Anniversary.
"
The event was great! Really well-organised and the venue worked really well. Staff were really efficient which can't be easy with a crowd that big!
"
Reviewed on 19/08/2019
FutureShock 179 - 2pm
"Fine afternoon of Professional Wrestling with authentically compelling matches and great crowd atmosphere"
Reviewed on 09/11/2021
FutureShock Tapped VII - Manchester
"
Fantastic promotion! Amazing talent! Matches never fail to disappoint. Also, they are an incredibly understanding promotion who have literally, bent over backwards to accommodate my autistic son and his needs. This is the only UK promotion we attend. Can't praise them enough!
"
Reviewed on 09/10/2019
FutureShock UnderGround 36
"A great show and certainly a full house. The best moment of the night had to be when Lana Austin cashed in her legacy trophy to take the title from Hollie Barlow straight after she won it from Alexis Falcon. That was just classic cash-in. There was no faults to the event in my opinion, just another classic night of British wrestling."
Reviewed on 30/12/2019
FutureShock 172: UnderGround (2pm)
"Really enjoyed the show, thought the triple threat match was a little weak"
Reviewed on 08/06/2021