Back to All events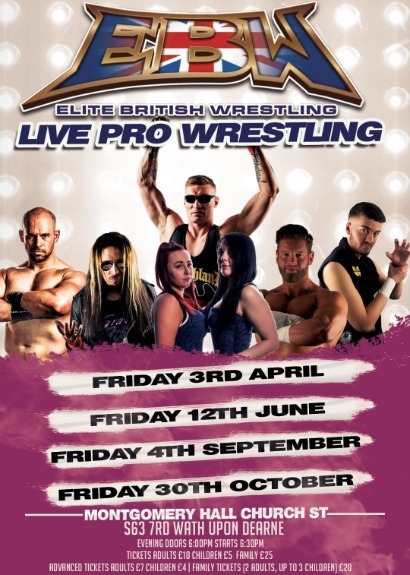 Event
EBW Presents Halloween Is Foe Heroes 2020
When / Where
30th October 2020
Doors open: 6:00pm
Montgomery Hall, Church Street, Wath upon Dearne, Rotherham, S63 7RD
Promoter reviews
Elite British Wrestling Presents Smack To The Future
"Great show as always from EBW. Good mix of matches and great value tickets The kids loved it and appreciated the wrestlers all chatting to them"
Reviewed on 19/10/2015
Elite British Wrestling Presents Newton Memorial Brawl 2016
"Really good night, everyone enjoyed it Claire webster"
Reviewed on 13/03/2016
Elite British Wrestling Presents Wrath Upon Dearne 3
"A good show, all the wrestlers worked hard. The interaction with the fans was great. Massive thumbs up to Stixx for going over and chatting to a disabled guy who couldn't get in the ring for a photo. Could have done with some more merchandise for specific wrestlers. I had a good night, a bargain for the price of admission."
Reviewed on 30/08/2015
EBW Presents Halloween Is For Heroes 2019
"
What a night!! Absolutely brilliant atmospherernWonderful entertainment. I would recommend anyone go,they will be hooked. Took my son and mother and dad. We will all be going again!
"
Reviewed on 13/10/2019
Elite British Wrestling Presents Summertime Smash
"Great day out, watched both shows. Few teething problems, mainly sound system but for a first time at a new venue went down well in general."
Reviewed on 24/07/2017
EBW Presents Not All Superheroes Wear Capes, Some Wear Lycra...
"Loved the show. Liked the venue. Love the wrestlers and everyone involved with the team. Always a great night."
Reviewed on 12/05/2019