Back to All events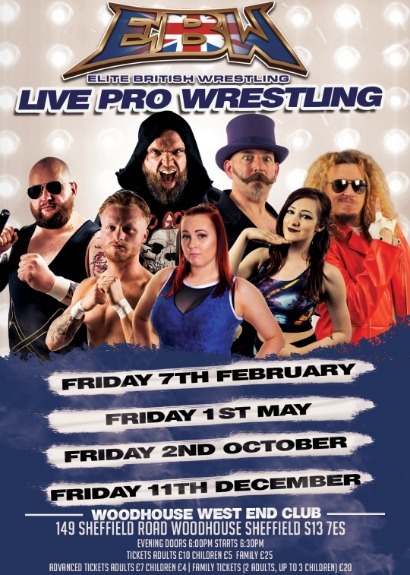 Event
EBW Presents Winter Wars 2020
When / Where
11th December 2020
Doors open: 6:00pm
Woodhouse West End WMC, 149 Sheffield Road, Sheffield, S13 7ES
Promoter reviews
Elite British Wrestling Presents Newton Memorial Brawl 2016
"Really good night, everyone enjoyed it Claire webster"
Reviewed on 13/03/2016
Elite British Wrestling Presents Winter Wars 2015
"This was the first time we had attended an EBW event. It was recommended to us knowing our son Dominic loves wrestling. We had the most amazing night, the atmosphere was electric. And to see the smile and excitement on our sons face was the best feeling ever. Will defiantly be coming again in January. Thanks for a great night. Katy Darren & Dominic "
Reviewed on 30/11/2015
Elite British Wrestling Presents Apocalypse Now?
"There were lots of shocks and surprises and it was awesome! Wrestlers I didn't think would be there; matches I didn't think I would see. Real professionalism. Matches better than you'd see on WWE. From Craig Ogden (Wrestling superfan)"
Reviewed on 14/06/2017
Elite British Wrestling Presents Summertime Smash
"Great day out, watched both shows. Few teething problems, mainly sound system but for a first time at a new venue went down well in general."
Reviewed on 24/07/2017
EBW Presents Not All Superheroes Wear Capes, Some Wear Lycra...
"I loved it . My first wrestling match watching a family."
Reviewed on 12/05/2019
Elite British Wrestling Presents Wrath Upon Dearne 3
"I never really knew much about wrestling but my other half is really into it so I got us tickets for a show. They are reasonably priced making it possible for entire families to get together which I feel is incredibly important. Unfortunatley my mister couldn't come on the night so a friend agreed for her quiet 5 year old son to chaperone me. I was nervous about going but found the venue perfect for the event(Montgomery hall, Wath). The performers were wonderful and the action turned the quiet 5year old into a bouncing, chanting, ball of energy. He found it truly exciting and it was a great introduction for me into this world. The Steam punk performers were my favourites but the others were impressive too. I can't wait for my next show. Thank you."
Reviewed on 11/09/2015