Back to All events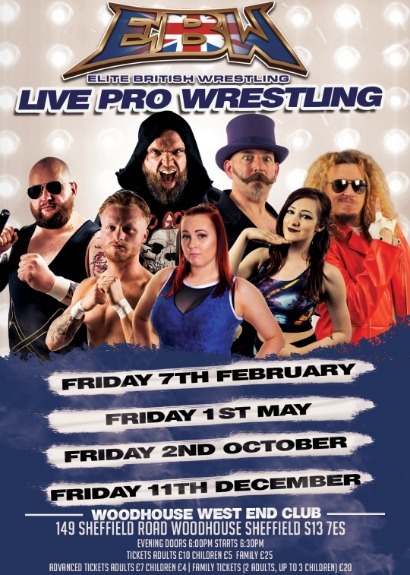 Event
EBW Presents Winter Wars 2020
When / Where
11th December 2020
Doors open: 6:00pm
Woodhouse West End WMC, 149 Sheffield Road, Sheffield, S13 7ES
Promoter reviews
EBW Presents Brawl In The Hall
"
Was a brilliant, light hearted evening. All the wrestlers were brilliant and welcoming to the children, which was lovely to see all the smiles and enjoyment had by all. Well done, great evening
"
Reviewed on 03/03/2019
Elite British Wrestling Live In Wath Upon Dearne
"Brilliant night !!! Thanks all "
Reviewed on 14/02/2016
EBW Presents Unlucky For Some
"We had a fab family time, great atmosphere, very entertaining and well done "
Reviewed on 15/04/2018
EBW Presents Not All Superheroes Wear Capes, Some Wear Lycra...
"Loved the show. Liked the venue. Love the wrestlers and everyone involved with the team. Always a great night."
Reviewed on 12/05/2019
Elite British Wrestling Presents Apocalypse Now?
"There were lots of shocks and surprises and it was awesome! Wrestlers I didn't think would be there; matches I didn't think I would see. Real professionalism. Matches better than you'd see on WWE. From Craig Ogden (Wrestling superfan)"
Reviewed on 14/06/2017
EBW Presents Apocalypse Now 2019
"I love EBW events. They are so well prepared and fun for all the family. Thoroughly recommend this great wrestling group in Sheffield. They put on a great show."
Reviewed on 11/02/2019