Event Description
FutureShock returns to it's birthplace to rock the Guildhall to it's foundations.
Join us as we kick off our year in Stockport style!
Door 4.15
First Bell 5pm
Matches Already Announced:
Tag Team Championship Match - Tornado Rules
Young Guns (c) vs Chris Egan & Danny Hope
Four-Way #1 Contenders Match for the Adrenaline Championship
Tom Thelwell vs Joe Nelson vs JJ Webb vs Scott Oberman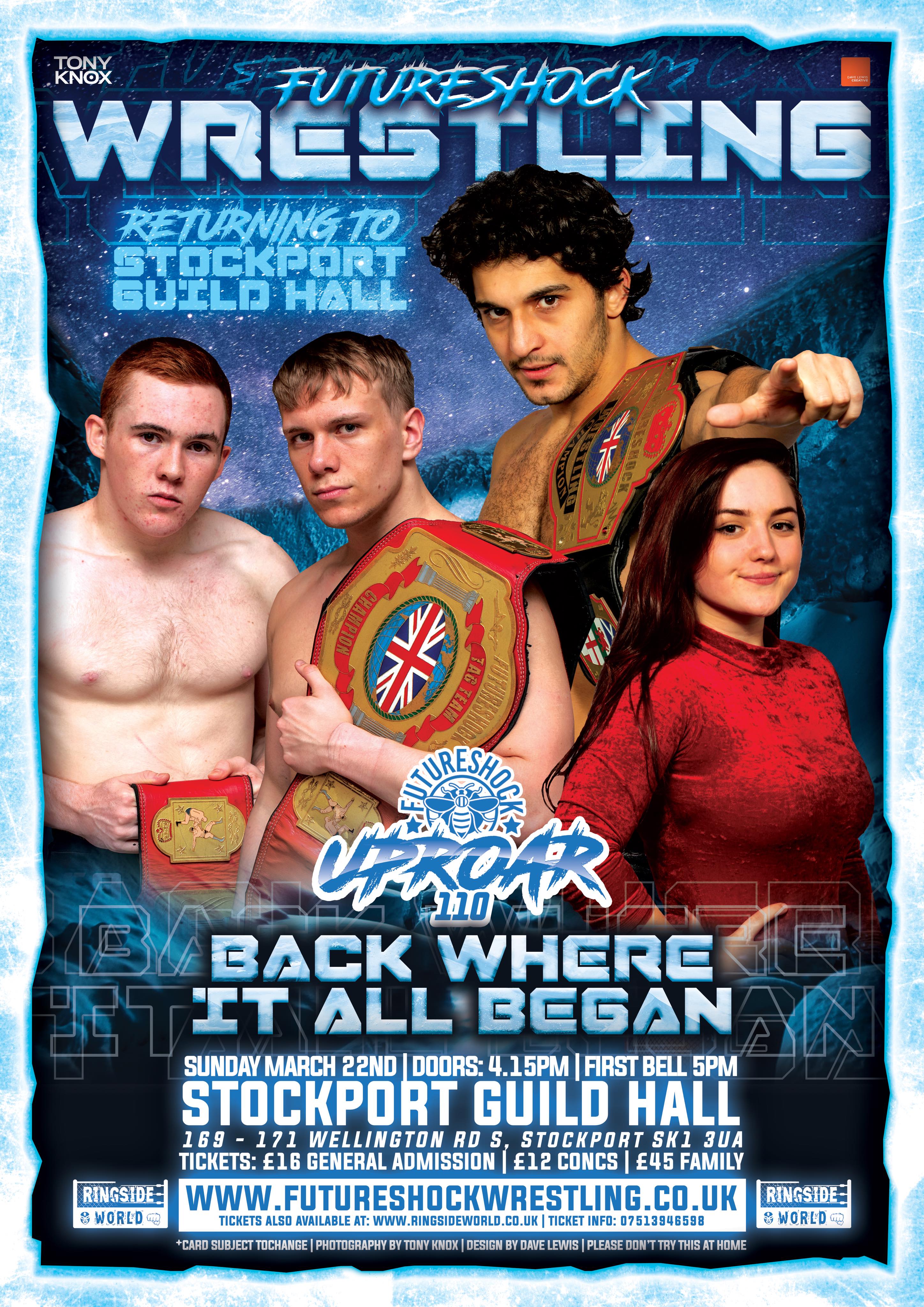 Please note the event line up is subject to change.
Featured Wrestlers
Promoter reviews
FutureShock Underground 32 - Prestwich, Manchester featuring the return of David Starr.
"I've never been to a wrestling event before, but my friend was a veteran we both had the best time, the crowd were great, the venue and wrestlers were amazing. One of the best nights out I've had."
Reviewed on 22/04/2019
FutureShock Wrestling: Underground 34 - The 15th Anniversary.
"
The event was great! Really well-organised and the venue worked really well. Staff were really efficient which can't be easy with a crowd that big!
"
Reviewed on 19/08/2019
FutureShock Tapped III: Tapped With A Vengeance - Manchester
"What an Awesome show I just wish the bar had coke"
Reviewed on 09/02/2019
FutureShock Uproar 106 - DOUBLE STEEL CAGE MATCH main events at Stockport Town Hall
"Excellent, was very well organised - loved the fact that seat were already allocated with names so we were all sat together on second row. Parking was super cheap. Fantastic atmosphere. Will def book again."
Reviewed on 14/05/2019
FutureShock Underground 33 - Prestwich, Manchester
"
What a fantastic night Saturday was never laughed to much the comedy side of some of the wrestling was great and made it such a good laugh x was gutted when I found out that jack Gallagher will be at the next show in Prestwich which I can't attend due to holidays but hopefully it will be a good night again for everyone that is lucky enough to attend
"
Reviewed on 26/06/2019
FutureShock Tapped V: A Good Day To Tap Hard - Manchester
"The third Futureshock show I've been to and the best! The match quality was fantastic throughout and the main event was superb."
Reviewed on 11/06/2019