Event Description
FutureShock returns to it's birthplace to rock the Guildhall to it's foundations.
Join us as we kick off our year in Stockport style!
Door 4.15
First Bell 5pm
Matches Already Announced:
Tag Team Championship Match - Tornado Rules
Young Guns (c) vs Chris Egan & Danny Hope
Four-Way #1 Contenders Match for the Adrenaline Championship
Tom Thelwell vs Joe Nelson vs JJ Webb vs Scott Oberman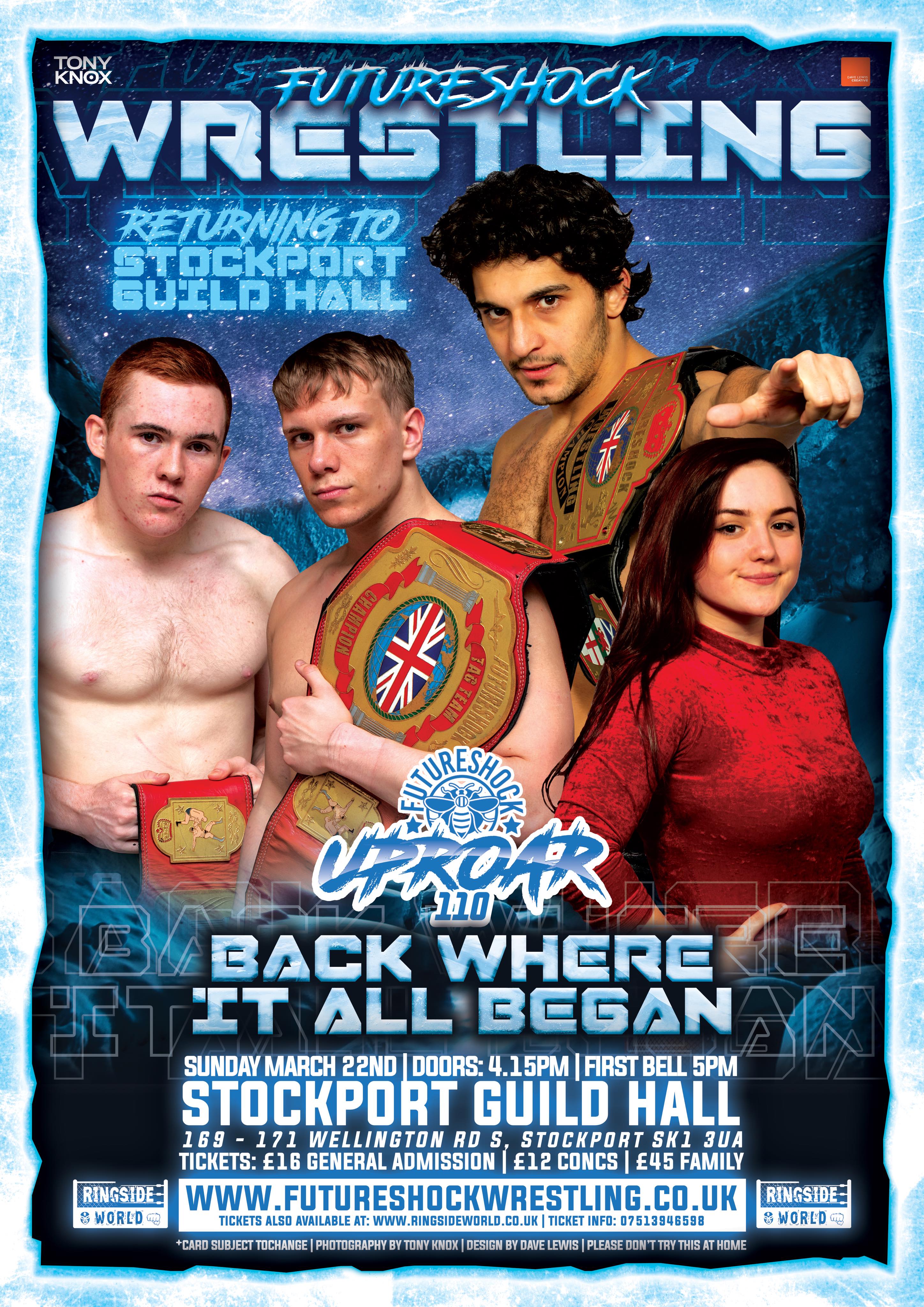 Please note the event line up is subject to change.
Featured Wrestlers
Promoter reviews
FutureShock Uproar 109: BLOW OUT AT THE TOWN HALL!
"
My First Futureshock Event. I had a teally good time as did my Sister and Nephews I brought with me. Really impressed by the professionalism of all the staff and the quality of the matches. Only small issue is the cameraman was stationary in our corner so that we missed the finishes of the first half mostly. They knelt in the second half and moved more so was much better. Looking forward to the next one!
"
Reviewed on 19/11/2019
FutureShock Uproar 104 - Stockport
"First time going and with my whole family who came over for some holidays, to show them what wrestling was about as i have always been a fan and they absolutely loved it. You're gonna see me in every show now"
Reviewed on 22/01/2019
FutureShock Wrestling: Underground 34 - The 15th Anniversary.
"Fantastic shown as always. Great atmosphere, family friendly and excellent venue."
Reviewed on 21/08/2019
FutureShock Wrestling: Underground 34 - The 15th Anniversary.
"This was the best show with the most amazing atmosphere I've ever seen at a live wrestling show."
Reviewed on 19/08/2019
FutureShock Tapped V: A Good Day To Tap Hard - Manchester
"Great show especially the bouts after the interval"
Reviewed on 11/06/2019
FutureShock Tapped VIII
"Great show and a lovely venue. The only thing i can think of to improve is that I would have loved to have seen more matches."
Reviewed on 03/12/2019