Event Description
FutureShock returns to it's birthplace to rock the Guildhall to it's foundations.
Join us as we kick off our year in Stockport style!
Door 4.15
First Bell 5pm
Matches Already Announced:
Tag Team Championship Match - Tornado Rules
Young Guns (c) vs Chris Egan & Danny Hope
Four-Way #1 Contenders Match for the Adrenaline Championship
Tom Thelwell vs Joe Nelson vs JJ Webb vs Scott Oberman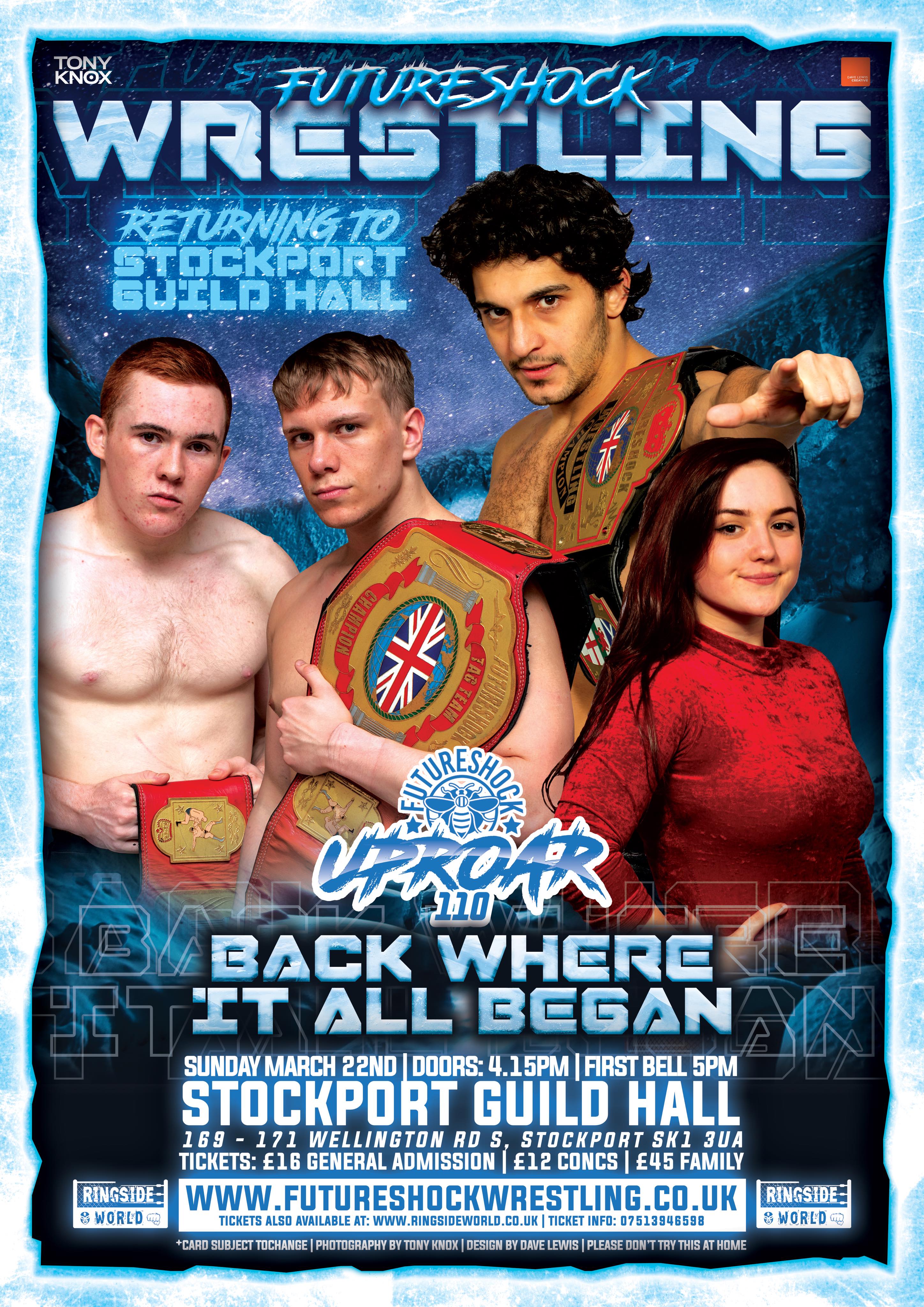 Please note the event line up is subject to change.
Featured Wrestlers
Promoter reviews
FutureShock Uproar 109: BLOW OUT AT THE TOWN HALL!
"EXCELLENT EVENT AS ALWAYS"
Reviewed on 20/11/2019
FutureShock Uproar 104 - Stockport
"First time going and with my whole family who came over for some holidays, to show them what wrestling was about as i have always been a fan and they absolutely loved it. You're gonna see me in every show now"
Reviewed on 22/01/2019
FutureShock Uproar 105 - Stockport Town Hall
"The show was amazing. This was my first indie show and got 2 tickets for uproar 106 at ringside and so excited for that as well"
Reviewed on 19/03/2019
FutureShock Tapped VII - Manchester
"
Fantastic promotion! Amazing talent! Matches never fail to disappoint. Also, they are an incredibly understanding promotion who have literally, bent over backwards to accommodate my autistic son and his needs. This is the only UK promotion we attend. Can't praise them enough!
"
Reviewed on 09/10/2019
FutureShock Underground 32 - Prestwich, Manchester featuring the return of David Starr.
"
Tremendous event from start to finish. The women's tag match was a classic tag match and was a higher standard than the men's one. Heels knew to cut the babyface off and get some heat. Good hard-hitting main event. Comedy moments dotted throughout the show were good. I wouldn't have had any comedy in the secondary title match but that's a personal peev of mine - good match, comedy bits in that match were funny but for me personally it was the wrong place. Good show.All Futureshock's shows are highly recommended
"
Reviewed on 22/04/2019
FutureShock Wrestling: Underground 34 - The 15th Anniversary.
"Fantastic shown as always. Great atmosphere, family friendly and excellent venue."
Reviewed on 21/08/2019