Event Description
Matches Already Announced:
King Of Chaos Championship Match
Mike Bird (c) vs Mark Haskins w/ Vicky Haskins
Knights Of Chaos Championship Match
Big Grizzly Dicks (c) vs Grizzled Young Veterns
Maiden Of Chaos Championship Match
Dani Luna (c) vs Lana Austin
Danny Jones vs Jordan Devlin
El Ligero vs Scotty Davis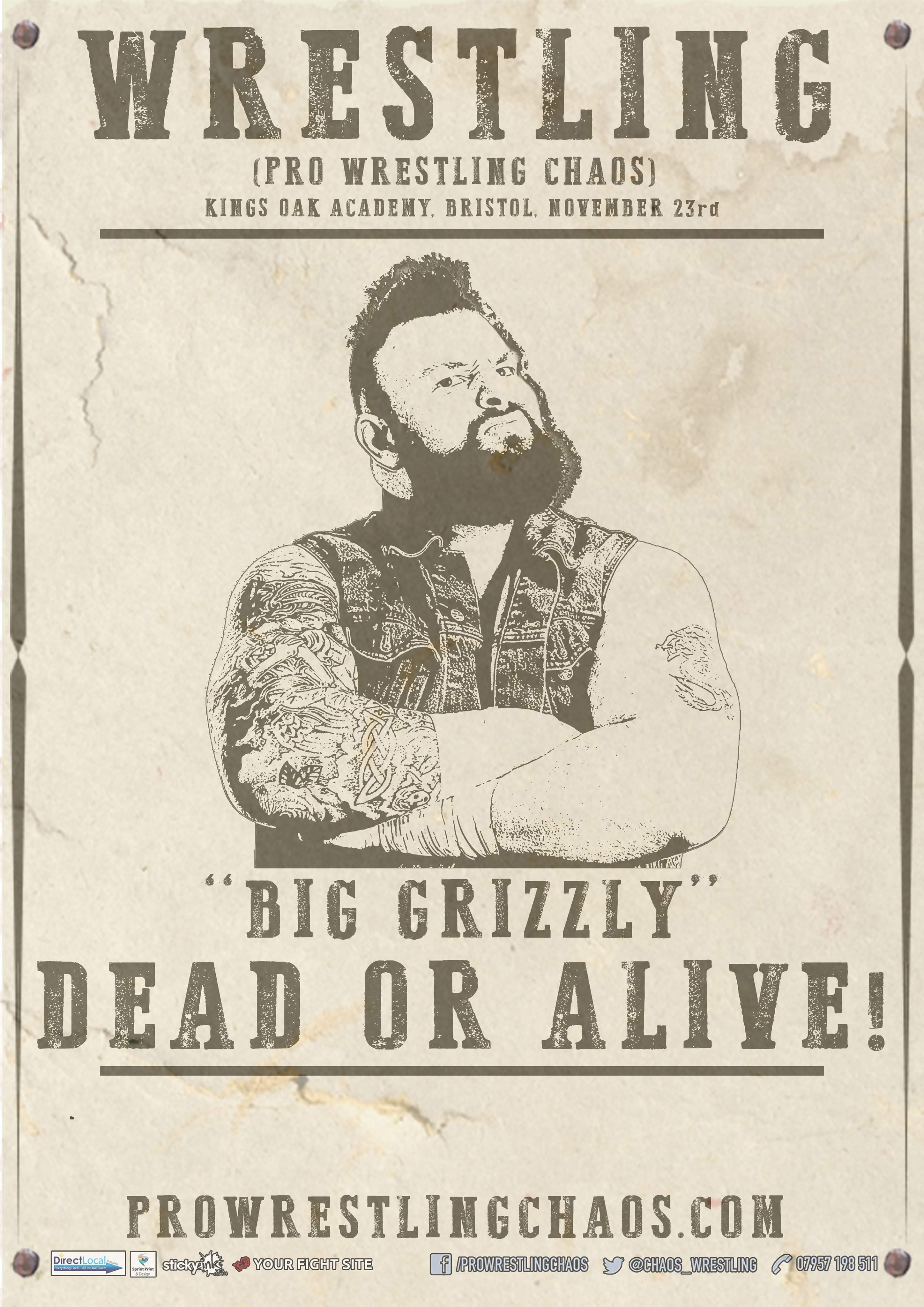 Please note the event line up is subject to change.
Promoter reviews
Pro Wrestling Chaos: Total Chaos 2016
"I would like to say that we travelled from Glasgow for this show as my son especially wanted to meet Johnny Gargano and we where not disappointed. The show was amazing and very well organised. Some of the wrestlers where selling merchandise and where so nice, and spent a lot of time with people. We have already booked for the show in Thornbury Leisure Centre in July and I hope it will be as amazing as this one. Thanks Pro Wrestling Chaos!"
Reviewed on 23/05/2016
Pro Wrestling Chaos Presents Dont Be A Menace To Chaos While Drinking Your Haze In The Wood
"
This was our first PWC show. It was easy to purchase our tickets, and was really pleased that our names were placed on the seats as we arrived at the start so didn't have to worry about seating. This was great. I really like being able to buy 2nd row tickets. My son would sit in the front, but gets a bit scared at times so this is totally perfect. As it was our 1st show were aren't up to speed with the story lines, so this was a little confusing, but something we would expect. And definitely not a negative. All of the matches were 1st class. The whole experience was brilliant from the lay out of the venue, to the audience atmosphere. And it was nice that the staff engaged with us all. A total class business and a wonderful show. My only concern, it is advertised as a family show. And children are present. I do not have a problem with swearing but. Your new manager dropped the C bomb at the beginning. This is one word i personally hate and as a family show should be avoided. I know I sound like an old nag, and I am sorry. I know there is a lot of swearing and my 9 year old will be oblivious, but the C word is a step too far for me. Overall we had THE best night out. Brilliant line up of matches, and the best wrestling show we have seen so far. So much so that we got tickets for the next show as soon as we got home.
"
Reviewed on 14/01/2019
All or Nothing
"
Fantastic show. Shame Chaos is closing down. Always have a great time at the shows. The venue was a bit chilly but it was a huge open space so I guess that's to be expected. Had a great time and will try to make it to as many shows as I can before February
"
Reviewed on 21/10/2019
Pro Wrestling Chaos: Jumpers for Ringposts
"Brilliant event. Very entertaining. Will definately go again."
Reviewed on 02/05/2018
Pro Wrestling Chaos Presents 45 Shows Later
"The show was brilliant. All the staff we met were really friendly and helpful. The majority of the performers were super nice during the meet & greet and their ring-work was really good - they made a point of engaging the crowd and actually going into the crowd for parts of the match. I like that they had company and wrestler clothing available to buy as well. My only real gripe was that their cameraman and photographer were in front of the ring 99% of the time and got in the way of getting good shots of the action but not enough to stop me enjoying the show. It was definitely great value for money and I will be booking tickets again soon."
Reviewed on 10/09/2018
Pro Wrestling Chaos 18
"Amazing show! My little brother it was the most epic night he's ever had "
Reviewed on 07/12/2015