Back to All events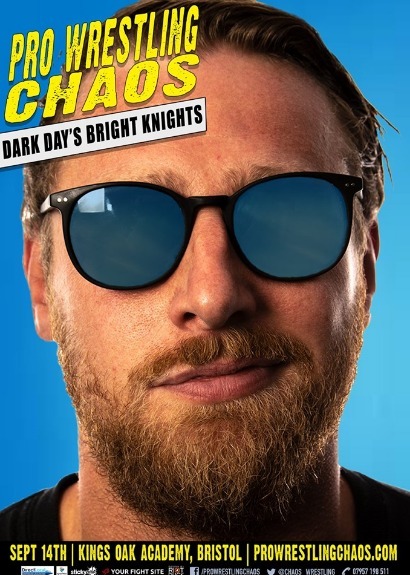 Event
Pro Wrestling Chaos Presents Dark Day's Bright Knights
When / Where
14th September 2019
Doors open: 18:00
Kings Oak Academy , Brook Road, Kingswood, Bristol, BS15 4JT
Promoter reviews
Pro Wrestling Chaos: CHAO5
"Such a fun evening - great atmosphere, will be back. "
Reviewed on 12/06/2018
Pro Wrestling Chaos: Heir 2 The Throne
"Was blown away, didn't know what to expect, but was very action packed, loved how they fought outside the ring too, will definitely be going to the next show in May at yate leisure centre, if I had a negative comment it would be, from match to match it could have been a bit slicker, there where pauses which could have been prevented, overall a fab night... looking forward to the next one"
Reviewed on 11/04/2016
Bro Wrestling Chaos: UnBroLievable
"Excellent event, Bird v Riddle was awesome. My boys first chaos and he had a great time! "
Reviewed on 05/06/2017
Pro Wrestling Chaos Presents 45 Shows Later
"Really fantastic show. Lots of fun and laughs with the audience, but also some quality wrestling on show with Mark Haskins and Pete Dunne amongst others. Already have my ticket for the next one and seriously considering a season ticket. Would highly recommend this promotion. I usually go with a couple of friends, but the atmosphere is so good I would happily go on my own and feel comfortable. Ticket prices are also good. Full marks!"
Reviewed on 10/09/2018
Pro Wrestling Chaos: The Hungerford Games
"Was amazing and hilarious I took my boyfriend as a nice surprise and we both loved it it was a lovely little atmosphere chanting and just watching the matches, Eddie and Alex were our favourites we would define let go again it's something we wouldn't miss out on !!"
Reviewed on 26/09/2016
Pro Wrestling Chaos: TOTAL CHAOS 2017
" Awsome nigh out The best night ever my son loves comeing to come and see the guy at Pro wrestling chaos "
Reviewed on 27/03/2017