Back to All events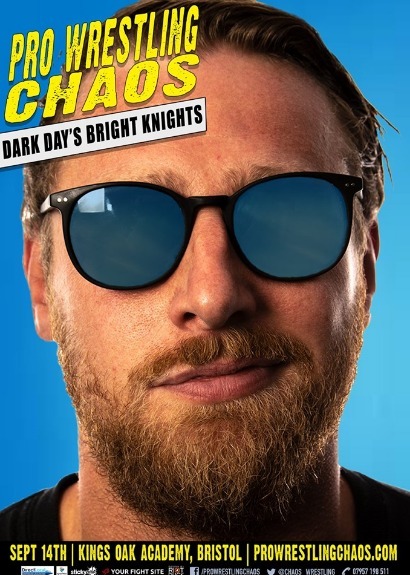 Event
Pro Wrestling Chaos Presents Dark Day's Bright Knights
When / Where
14th September 2019
Doors open: 18:00
Kings Oak Academy , Brook Road, Kingswood, Bristol, BS15 4JT
Promoter reviews
Pro Wrestling Chaos Presents Dont Be A Menace To Chaos While Drinking Your Haze In The Wood
"
I could go on for a while about this one, but I'll be as concise as possible; this show was absolutely fantastic. It's always a given that you're going to have a great time at a Pro Wrestling Chaos show, but this one went above and beyond. First of all, as an audience, we definitely did our bit. The atmosphere was excellent. It's no wonder, too, because the show we were watching was a real treat. The story aspect of the show was entertaining and evoked a great reaction from the crowd, as well as creating a real context for the show we were about to watch. PWC has a real knack for these things and always deliver committed performances. The wrestling itself was excellent, of course. Every performer is clearly enjoying their wrestling, because so much went into each match from each individual involved. If you're the type of fan who likes to get involved in the noise and atmosphere (guilty), then you will not be disappointed. Every match was met with a very vocal reaction from the crowd, we were all having a great time. There's also a lot there for wrestling connoisseurs. If you're the type of fan who finds yourself, from time to time, sitting back and enjoying the show with a more cerebral approach (also guilty) then you will find yourself appreciating all the technique and talent that these performers exhibit. rnrnTop that all off with a truly chaotic 6 man tag match and a 2 out of 3 falls scenario involving ladders, frying pans and my favourite wrestling promotion's champion executing a death-defying front flip off of a balcony - well, suffice it to say I had a very enjoyable evening! This is a severe understatement, but well done to everyone involved and thanks for a great night.
"
Reviewed on 14/01/2019
Pro Wrestling Chaos: Heir 2 The Throne
"Awesome event! Great mix of matches, brilliant wrestling from all the guys who performed. Keep up the good work!"
Reviewed on 11/04/2016
Pro Wrestling Chaos: Everyone Must Stand Alone
"Great show. Well mixed card with a bit of everything. Tickets very good price. Staff really helpful. Especially when our front row weren't ready. Really enjoyed it!"
Reviewed on 08/02/2016
Pro Wrestling Chaos: TOTAL CHAOS 2017
"chaos is always amazing brillant croud amazing wrestlers and just a fun night out i love it x"
Reviewed on 27/03/2017
Pro Wrestling Chaos: Total Chaos 2016
"the wrestling was amazing its always amazing shows from total chaos put it this way i wasnt well and still went wudnt miss it amazing night x"
Reviewed on 23/05/2016
Pro Wrestling Chaos: Sweet Dreams
"I went to the q&a for Tommy dreamer and want to say was brilliant!!! Learnt a lot about his career and had a really good time The show was good apart from the first match which was slow and needed them to actually wrestle and not work the crowd as much. The staff were really helpful and approachable. Thank you pro wrestling chaos for a fun good show and day "
Reviewed on 02/05/2017