Event Description
14+ Event
Matches Already Announced:
TCW World Championship Sramble Match
HT Drake vs Chuck Mambo (c) vs Sean Only vs Brady Phillips
Sugar Dunkerton vs Rampage Brown
TCW Women's Championship NO DQ Match
Chakara (c) vs Little Miss Roxxy
Holidead vs Rhio
TK Cooper vs Spike Trivet
Boris Koslov vs Jack Turner
Will Kroos vs Sheikh El Sham

Also Set To Appear:
The Lion Kings
Plus Many More!
Please note the event line up is subject to change.
Promoter reviews
Tidal Championship Wrestling Presents Against All Odds 3: Combat Edition
"It was a cracking night, both me and my brother enjoyed it. Looking forward to going again next year :)"
Reviewed on 22/11/2016
Tidal Championship Wrestling Presents: The Last Dance
"My grandson and I really enjoyed this event but it was a shame that more people didn't attend. I did think however those of us who did attend give plenty of support to the wrestlers. I thought it was all very professional especially the championship fight. I would of liked however my grandson to have been able to meet the wrestlers to get autographs and have photos with them. We were able to do this at the Forum in Darlington. The only one he was able to meet this time was Micky the dragon. "
Reviewed on 14/09/2015
Tidal Championship Wrestling Presents All Crime Is Legal
"Brilliant last show. Great booking of War Machine and Dalton Castle. Also some unpredictable results especially Sean Only beating Matt Myers. I have been following wrestling since the 1960s and I have to say the tag match between The Proven and The New Nation was the best I have ever seen anywhere "
Reviewed on 26/04/2016
Tidal Championship Wrestling Presents Against All Odds #2
"Been going to TCW for about a year now, that was probably the best show you've put on yet!"
Reviewed on 29/09/2015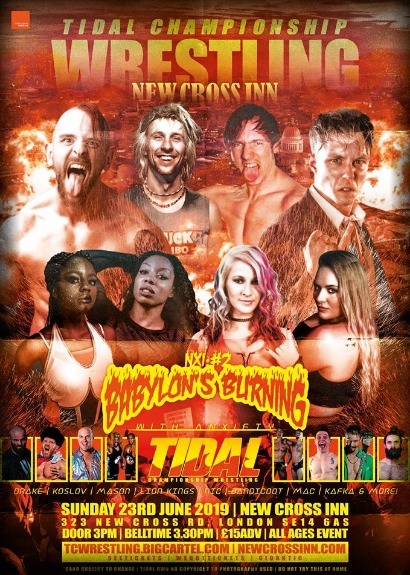 Tidal Championship Wrestling Presents NXI2: Babylon's Burning With Anxiety
MORE INFO +
TICKETS