Back to All events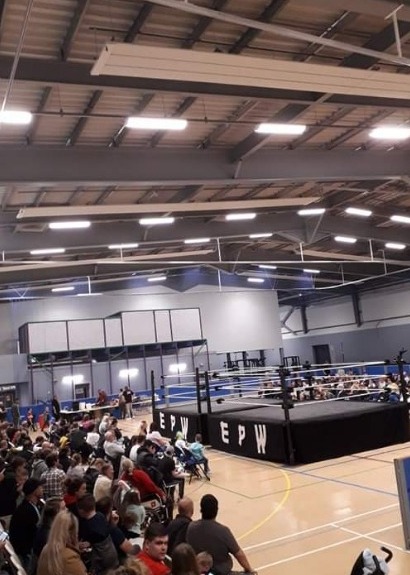 Event
2019 AMERICAN WRESTLING MIDDLESBROUGH
When / Where
28th September 2019
Doors open: 7pm
MIDDLESBROUGH SPORTS VILLAGE, Alan peacock way Middlesbrough, Ts4 3ae
Event Description
TOP CLASS WRESTLING ACTION
Please note the event line up is subject to change.
Promoter reviews
AMERICAN WRESTLING EPW SCARBOROUGH
"Hi, we had a great evening at the wrestling. It was for my son and his friend. They never stopped shouting and laughing. They loved the baddies and their favourite wrestler was Joseph 😉💪🏿Good, fair price for families, and the merchandise was very reasonable too which makes a nice change as usually very over priced! Great night had by all. "
Reviewed on 05/02/2017
AMERICAN WRESTLING EPW ALFRETON
"Brill night all family enjoyed it will be going again "
Reviewed on 22/05/2016
2018 AMERICAN WRESTLING EPW MIDDLESBROUGH
"I think the epw wrestling is a brilliant family show , my son loves attending the show and meeting the wrestlers afterwards "
Reviewed on 24/09/2018
AMERICAN WRESTLING EPW ALFRETON
"I thought the show was very good,The only thing I thought that let it down was that the matches were not as long as they could have been. I know you would have had a certain time limit so I suppose that would be the reason behind the short matches. It would have been nice to vary the matches a little more, Like have a street fight or something like that. All in all it was a good night out and my son enjoyed every minute of it. "
Reviewed on 22/05/2016
AMERICAN WRESTLING EPW ALFRETON
"Grandchildren thoroughly enjoyed themselves and surprisingly so did I! Excellent value for money, will definitely go again. Neville "
Reviewed on 23/05/2016
AMERICAN WRESTLING EPW CHESTERFIELD
"It was amazing my son's first time loves wwe but was good will go again"
Reviewed on 24/02/2016