Back to All events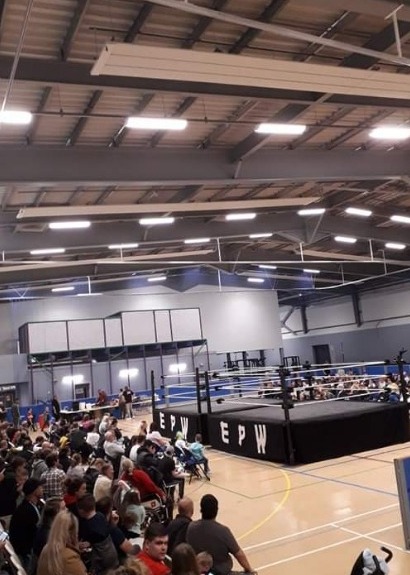 Event
2019 AMERICAN WRESTLING MIDDLESBROUGH
When / Where
28th September 2019
Doors open: 7pm
MIDDLESBROUGH SPORTS VILLAGE, Alan peacock way Middlesbrough, Ts4 3ae
Event Description
TOP CLASS WRESTLING ACTION
Please note the event line up is subject to change.
Promoter reviews
2019 AMERICAN WRESTLING LIVE STIRLING
"Fantastic my grandkids loved it first time for all of us, looking forward to seeing it again when it comes back to Stirling when ever that is even tried my hardest to win family pass sore throat next day, thank you so much"
Reviewed on 17/03/2019
AMERICAN WRESTLING EPW KIRKBY
"Had a fantastic night, the team where very entertaining, I've never been to a wrestling match before but I will defiantly be going again, thank you for a great family nite out"
Reviewed on 11/12/2016
AMERICAN WRESTLING EPW ALFRETON
"Amazing show great wrestlers especially snot rotton an amazing performance plus getting to meet the wrestlers and take photos with them after the show great night "
Reviewed on 04/12/2016
AMERICAN WRESTLING EPW ELLESMERE PORT
"Awesome show !!! My son loved it !@"
Reviewed on 15/10/2017
AMERICAN WRESTLING EPW ELLESMERE PORT
"Very entertaining and enjoyable night."
Reviewed on 13/02/2017
AMERICAN WRESTLING EPW FORMBY
"We went to watch the wrestling in Formby Gild Hall recently, and thoroughly enjoyed the show. The MC/Ref kept the audience involved and led the chants, the wrestlers put on a good show and took a few bumps.The heels were really bad and cheated,the faces really good and fought by the rules, much to the delight of the kids and amusement of the adults. The only downside to the event was a low ceiling which prevented a cage match and any high flying moves but all in all a great night and a good introduction to live wrestling for the kids. Well done boys. "
Reviewed on 02/09/2016