Back to All events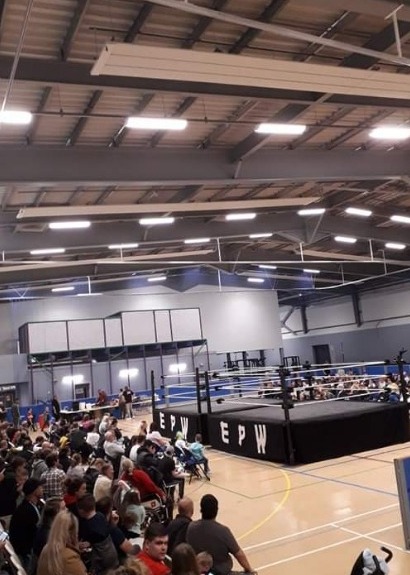 Event
2019 AMERICAN WRESTLING MIDDLESBROUGH
When / Where
28th September 2019
Doors open: 7pm
MIDDLESBROUGH SPORTS VILLAGE, Alan peacock way Middlesbrough, Ts4 3ae
Event Description
TOP CLASS WRESTLING ACTION
Please note the event line up is subject to change.
Promoter reviews
AMERICAN WRESTLING EPW FRASERBURGH
"Excellent show took my 6 year old grandson he has not stopped speaking about the show "
Reviewed on 15/05/2017
AMERICAN WRESTLING EPW CLEETHORPES
"Fantastic night with 2 wrestling crazed lads great atmosphere great show and well worth the money. We went to to Sheffield earlier this yr to watch Revenge and to be brutally honest this was far better and we will be back. Happy lads happy mum 😊"
Reviewed on 04/06/2016
AMERICAN WRESTLING EPW MIDDLESBROUGH
"Absolutely amazing as always!!! Fab night for all the family"
Reviewed on 03/07/2017
AMERICAN WRESTLING EPW FORMBY
"We went to watch the wrestling in Formby Gild Hall recently, and thoroughly enjoyed the show. The MC/Ref kept the audience involved and led the chants, the wrestlers put on a good show and took a few bumps.The heels were really bad and cheated,the faces really good and fought by the rules, much to the delight of the kids and amusement of the adults. The only downside to the event was a low ceiling which prevented a cage match and any high flying moves but all in all a great night and a good introduction to live wrestling for the kids. Well done boys. "
Reviewed on 02/09/2016
2018 AMERICAN WRESTLING EPW FORMBY
"Great show , my 5 year old little boy really enjoyed it. Great interaction from all the wrestlers, my little enjoyed all the high fives, and getting involved in all the bouts."
Reviewed on 30/01/2018
AMERICAN WRESTLING RADCLIFFE
"Excellent night kids loved it the whole family had a great time!!!"
Reviewed on 29/11/2015