Back to All events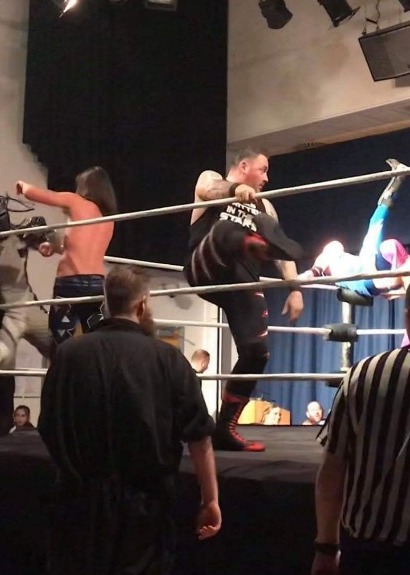 Event
AMERICAN WRESTLING LIVE DARLEY DALE
When / Where
21st September 2019
Doors open: 7pm
THE WHITWORTH CENTRE, Dale Rd N, Darley Dale, Matlock , DE4 2EQ
Event Description
Top class wrestling action
Please note the event line up is subject to change.
Promoter reviews
AMERICAN WRESTLING LEIGH
"Out first time at any kind of wrestling event. Really not my thing but took my son (7) and his cousin (8) as a surprise, my son said it was the funnest day of his life! They had a blast! The staff were brill with all the kids, very interactive. Great value for money and would definitely go again. Thanks for a brill night. "
Reviewed on 26/10/2015
AMERICAN WRESTLING EPW MIDDLESBROUGH
"Fun night for youths and children. Good wrestling and fantastic for kids..great all round family entertainment...I'll definately go back and take the wife !"
Reviewed on 18/12/2016
AMERICAN WRESTLING HASLINGDEN
"Went along for the wrestling at Haslingden Sports Centre - had a great night. The wrestling was great fun and enjoyed all aspects of the event. What made the night was the meet and greet with the wrestlers at the end... made my son's evening... Please can we have more events like this.... as it encourages the kids to get involved with sports. Thanks again for a great well priced night of entertainment."
Reviewed on 03/04/2017
2019 AMERICAN WRESTLING LIVE ELLESMERE PORT
"
What a brilliant night.entainment for all ages. We go to every show when they are in our area and have a great night. highly recommend for a good family night out. 5* from me
"
Reviewed on 10/02/2019
2019 AMERICAN WRESTLING LIVE FORMBY
"Brought my son and friend to wrestling in formby for the first time Sunday. Me and hubby as well as the boys had a thoroughly entertaining afternoon. Will be back for sure"
Reviewed on 29/01/2019
AMERICAN WRESTLING EPW MIDDLESBROUGH
"What a genuinely great night this was - really well presented show. Good matches and some great talent on show. Highlight was obviously seeing Hardcore Holly wrestle live but there was also enough on show to whet my appetite to attend future EPW Events. The best night of Indy Wrestling I've ever attended (and I've been to a few!). This will take some beating."
Reviewed on 11/09/2017