Back to All events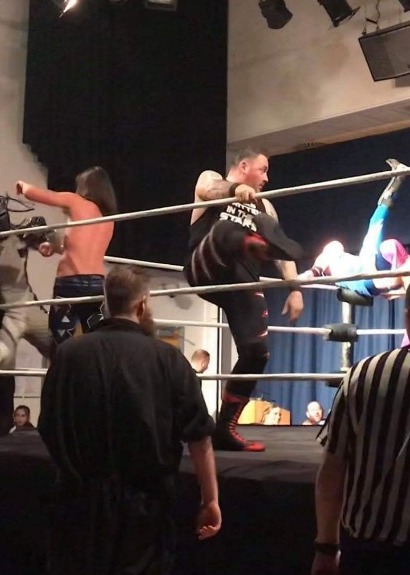 Event
AMERICAN WRESTLING LIVE DARLEY DALE
When / Where
21st September 2019
Doors open: 7pm
THE WHITWORTH CENTRE, Dale Rd N, Darley Dale, Matlock , DE4 2EQ
Event Description
Top class wrestling action
Please note the event line up is subject to change.
Promoter reviews
AMERICAN WRESTLING EPW SCARBOROUGH
"Fantastic family fun. The kids will love it,and even if you parents don't think you will.....you will. Good family fun for all the family "
Reviewed on 08/10/2017
2018 AMERICAN WRESTLING EPW MIDDLESBROUGH
"Tremendous fun, the kid loved it. Cool to see a top guy like Joe Connors live. Will be back to the next show they do."
Reviewed on 24/09/2018
AMERICAN WRESTLING EPW CHESTER
"A really good show my daughter enjoyed it so much will definitely be returning"
Reviewed on 21/03/2017
AMERICAN WRESTLING EPW DARLINGTON
"Fantastic show,as always.really enjoyed it.plus I won the raffle prize of a family ticket for next time! My only criticism is why not sell merchandise featuring their own wrestling stars instead of the wwe ones?! I'd certainly buy a"Bubba D" t shirt!!"
Reviewed on 04/04/2017
AMERICAN WRESTLING HASLINGDEN
"Went along for the wrestling at Haslingden Sports Centre - had a great night. The wrestling was great fun and enjoyed all aspects of the event. What made the night was the meet and greet with the wrestlers at the end... made my son's evening... Please can we have more events like this.... as it encourages the kids to get involved with sports. Thanks again for a great well priced night of entertainment."
Reviewed on 03/04/2017
AMERICAN WRESTLING EPW ALFRETON
"Brilliant night as always x"
Reviewed on 05/12/2016