Back to All events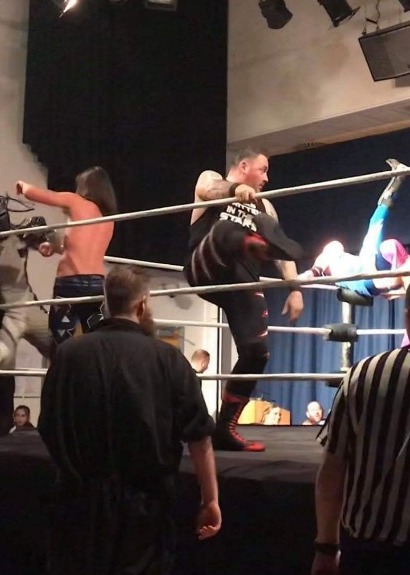 Event
AMERICAN WRESTLING LIVE DARLEY DALE
When / Where
21st September 2019
Doors open: 7pm
THE WHITWORTH CENTRE, Dale Rd N, Darley Dale, Matlock , DE4 2EQ
Event Description
Top class wrestling action
Please note the event line up is subject to change.
Promoter reviews
AMERICAN WRESTLING EPW BEBBINGTON
"great entertainment, kids really loved it and getting involved in the crowd chants to get a reaction from the bad guys. so really good fights and fancy moves."
Reviewed on 09/12/2016
AMERICAN WRESTLING EPW CHESTERFIELD
"Our 1st time watching American wrestling with our boys age 9,7 we loved it ! The boys had a ball, fabulous show very entering would highly recommend, only downside was we couldn't understand what the promotor was saying on the microphone! Good value for money too.. "
Reviewed on 23/02/2016
AMERICAN WRESTLING EPW BOOTLE
"Great show had ringside seats abd my kids loved it. Especially when my son had an arguement with barrett and had the crowd calling him a divvy. Would reccomend to anyone with kids. Great cheap fun day out. "
Reviewed on 02/02/2017
AMERICAN WRESTLING EPW CHESTER
"Hello there , this was my first time watching wrestling at northgate arena , been to a couple other venues to watch wrestling with my lad , we both really enjoyed it , I was creased , the only negative was the announcing , very echoy , but excellent apart from that...would defo go again... "
Reviewed on 15/03/2016
AMERICAN WRESTLING EPW NESTON
"Really good fun! Kids loved it and so did I. Davey blaze was impressive with his moves! Really worth the money would go again 👊🏼😄"
Reviewed on 05/04/2016
AMERICAN WRESTLING EPW FORMBY
"Great family fun evening. Took my Brother in Law who has Downs Syndrome, he absolutely loved it, especially his big hug from one of the lady wrestlers !! Great audience participation and a good laugh."
Reviewed on 06/03/2017