Back to All events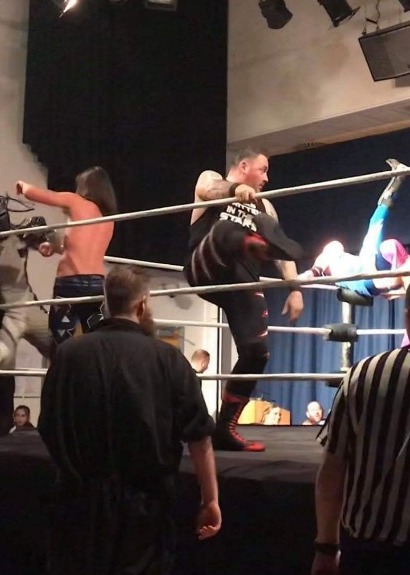 Event
AMERICAN WRESTLING LIVE DARLEY DALE
When / Where
21st September 2019
Doors open: 7pm
THE WHITWORTH CENTRE, Dale Rd N, Darley Dale, Matlock , DE4 2EQ
Event Description
Top class wrestling action
Please note the event line up is subject to change.
Promoter reviews
AMERICAN WRESTLING EPW NEWTON STEWART
"It was amazing. I really enjoyed it they knew how to build it up and really sell it. I love the crowd interaction. I got to high five a lot of the wrestlers and I loved it when Bram threw his opponent onto the chair beside me. Only downside was having to wait so long for it to start but other than that I have no complaints about the show."
Reviewed on 06/08/2016
2019 AMERICAN WRESTLING EPW CHESTERFIELD
"Was a good show would of liked to see more wrestlers on the show but overall as a wrestler myself was very good show and definitely would watch them again"
Reviewed on 26/02/2019
AMERICAN WRESTLING EPW FLEETWOOD
"Excellent entertainment. Would highly recommend. "
Reviewed on 01/03/2017
AMERICAN WRESTLING EPW REDCAR
"We bought tickets for my dad and son my son is 7 and in to we he thought it was fantastic carnt stop talking about it ."
Reviewed on 17/02/2016
2019 AMERICAN WRESTLING LIVE STIRLING
"We thoroughly enjoyed the wrestling. The wrestlers were very interactive with the crowd and quite funny too. We were disappointed that the women's match didn't happen as this is the second time it has been cancelled when we have attended. Besides that, we had a great time and will definitely be back!"
Reviewed on 18/03/2019
2019 AMERICAN WRESTLING EPW MIDDLESBROUGH
"My son and nephew had a great time at epw. Would recommend to anyone who has little wrestling fans!"
Reviewed on 29/04/2019