Event Description
Defiant Wrestling is back in Newcastle for the fourth annual "Built To Destroy" PPV event!
Matches Already Announced:
Defiant World Championship Match
Rampage Brown (c) vs David Starr
Defiant Women's Championship - Last Woman Standing Match
Lizzy Styles (c) vs Lana Austin
Also Set To Appear:
Joe Hendry
Simon Miller
Martin Kirby
Chief Deputy Dunne
Plus Many More!
Wheelchair spaces are available (includes free carer ticket). Customers who have other access requirements, please contact support@wearedefiant.com ahead of purchase.
Wrestlers will also be available at their respective merch tables where photos/autographs/tshirts will be available for additional fees.
This event will be filmed for broadcast online, by purchasing a ticket you agree to being filmed.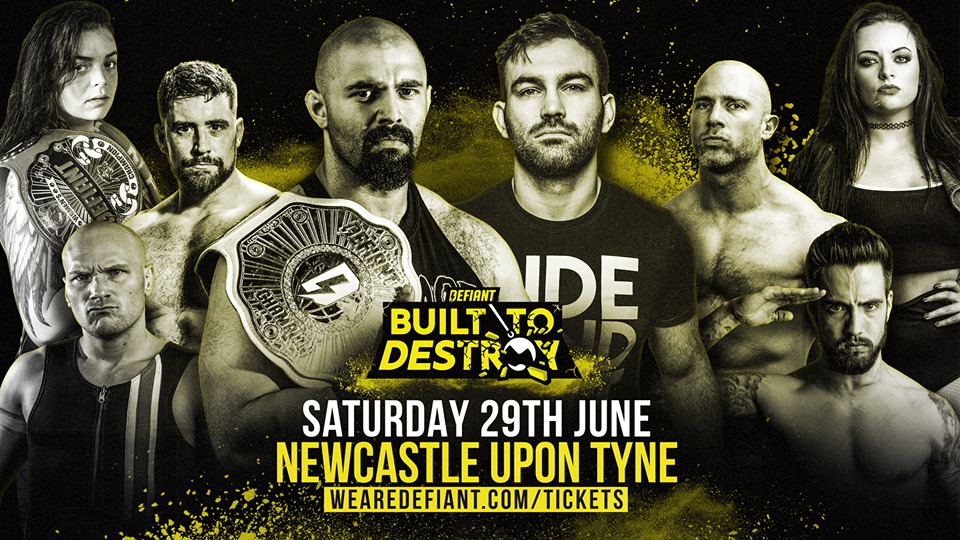 Please note the event line up is subject to change.
Promoter reviews
WCPW: LOADED
"WCPW Loaded on 01/12/2016, what a show. First class wrestling with some massive (in every sense of the word) superstars who along with the cream of UK talent put on a brilliant show littered with fast, high risk moves and in one match a destruction derby involving chairs, a table, a ken-do stick, a screwdriver and a monkey wrench. Keep up the good work guys and I'll see you in JAnuary"
Reviewed on 03/12/2016
Defiant Wrestling Presents Loaded
"Great show! Watched four episodes of Loaded been filmed, which was much more than I expected. Hours of wrestling for such a small price. Amazing."
Reviewed on 06/12/2018
WCPW: Friday Night Loaded
"WCPW was an excellent night, December 1st cannot come quick enough. First Class Entertainment."
Reviewed on 10/10/2016
WCPW LIVE - 27th & 28th July
"WE had a great time at the wrestling the only downside was that we missed the photo shoot as the VIP tickets we received stated that the doors opened at 7 when we should have been there for half 5. The wrestling itself was great and we enjoyed it so much that I've now bought VIP tickets for the October show"
Reviewed on 30/07/2016
WCPW Live In Newcastle
"A great night for all who were there, some great bouts, humor and even some karaoke. Only sour point was Alberto Del Patron (yes the Alberto Del Rio of WWE fame) not signing autographs."
Reviewed on 17/09/2016
WCPW Pro Wrestling World Cup: USA
"Fantastic night what a great show totally wrestling packed night and to get up and close with the starts from GFW impact wrestling! !! Good venue easy to find and staff frendily getting in and out! !! 🖒 Well worth the money and look forward to seeing more of the action soon. ."
Reviewed on 26/07/2017