Event Description
Matches Already Announced:
Oliver Sudden vs Gene Munny
Also Set To Appear:
James Drake
Mike Bird
Beano
Cara Noir
Shax
Plus Many More!
***CARD SUBJECT TO CHANGE (well, of course it is!!)***

***NO REFUND POLICY***

Policy on special requirements:

All our venues are accessible to disabled customers. Our policy details can be found here: http://www.prowrestlingchaos.com/chaos-for-everyone/
Please note the event line up is subject to change.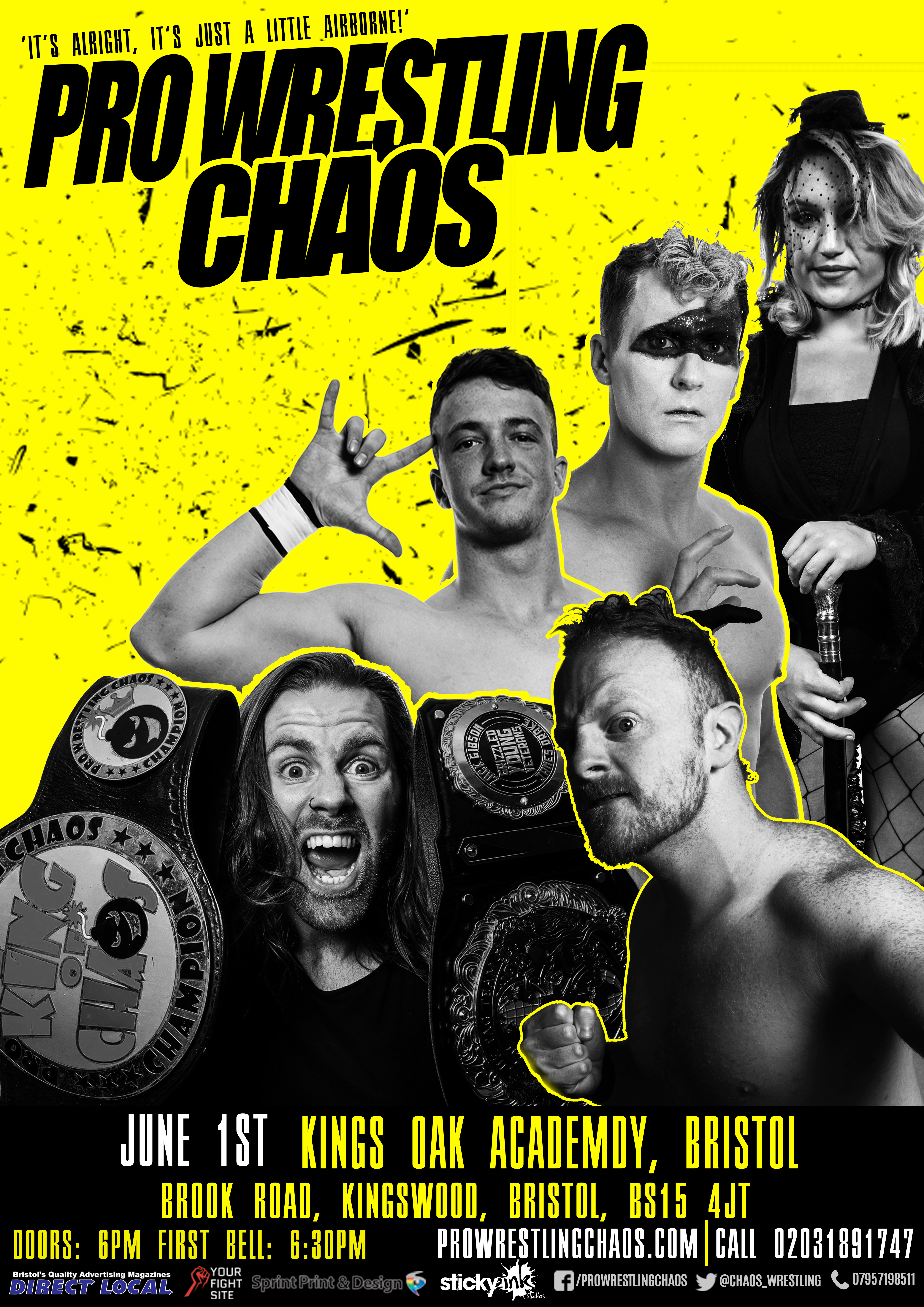 Please note the event line up is subject to change.
Featured Wrestlers
Promoter reviews
Pro Wrestling Chaos: Heir 2 The Throne
"Fantastic show. Doors opened on time which is a big plus, merchandise was great and made even better by having Jay Lethal selling his gear. That was a very good way to sell products as we got to shake his hand! The part that encouraged me to buy tickets initially was having by having big names like drew gallows and jay lethal. The matches were extremely entertaining and great lengths. The overall experience was 10/10 for the show. However, the only negative was about the arena as my friends (two women) were extremely cold throughout the whole evening which made the show uncomfortabpe for them. "
Reviewed on 11/04/2016
Pro Wrestling Chaos Presents Heir to the Thron4
"Bar the 6 man tag, one of the best wrestling shows I've been to....... and I've been to NxT at Full Sail Will be coming again....... be great if you came to Bridgwater for a show too"
Reviewed on 23/07/2018
Pro Wrestling Chaos Presents Dont Be A Menace To Chaos While Drinking Your Haze In The Wood
"
OH MY GOD. 10/10 event it really does NOT get any better. The 3vs3 and Main Event were EXCEPTIONAL stand outs but the entire card was amazing. You just locked in a life long fan. THIS IS CHAOS! HERE TAKE MY MONEH.
"
Reviewed on 14/01/2019
Pro Wrestling Chaos 16 - SOLD OUT
"Hello, I visited the pro wrestling Saturday and was a great night. My 2 boys loved it. Wrestling isnt my scene but even for people that doesn't like it it was a enjoyable night. The only negative to the night was that the ring should be lit up as was very dark in the room. Thanks "
Reviewed on 21/09/2015
Bro Wrestling Chaos: UnBroLievable
"Aswome as always Best night out Love coming to see you guys "
Reviewed on 05/06/2017
Pro Wrestling Chaos: Heir 2 The Throne
"Awesome event! Great mix of matches, brilliant wrestling from all the guys who performed. Keep up the good work!"
Reviewed on 11/04/2016