Event Description
Matches Already Announced:
King Of Chaos Championship Match
Dick Riley (c) vs Eddie Dennis
Maiden Of Chaos Championship Match
Jinny (c) vs Shax
Joel Redman vs Mike Bird
Chuck Mambo vs Wild Boar
***CARD SUBJECT TO CHANGE***
***NO REFUND POLICY***
Policy on special requirements:
All our venues are accessible to disabled customers. Our policy details can be found here: http://www.prowrestlingchaos.com/chaos-for-everyone/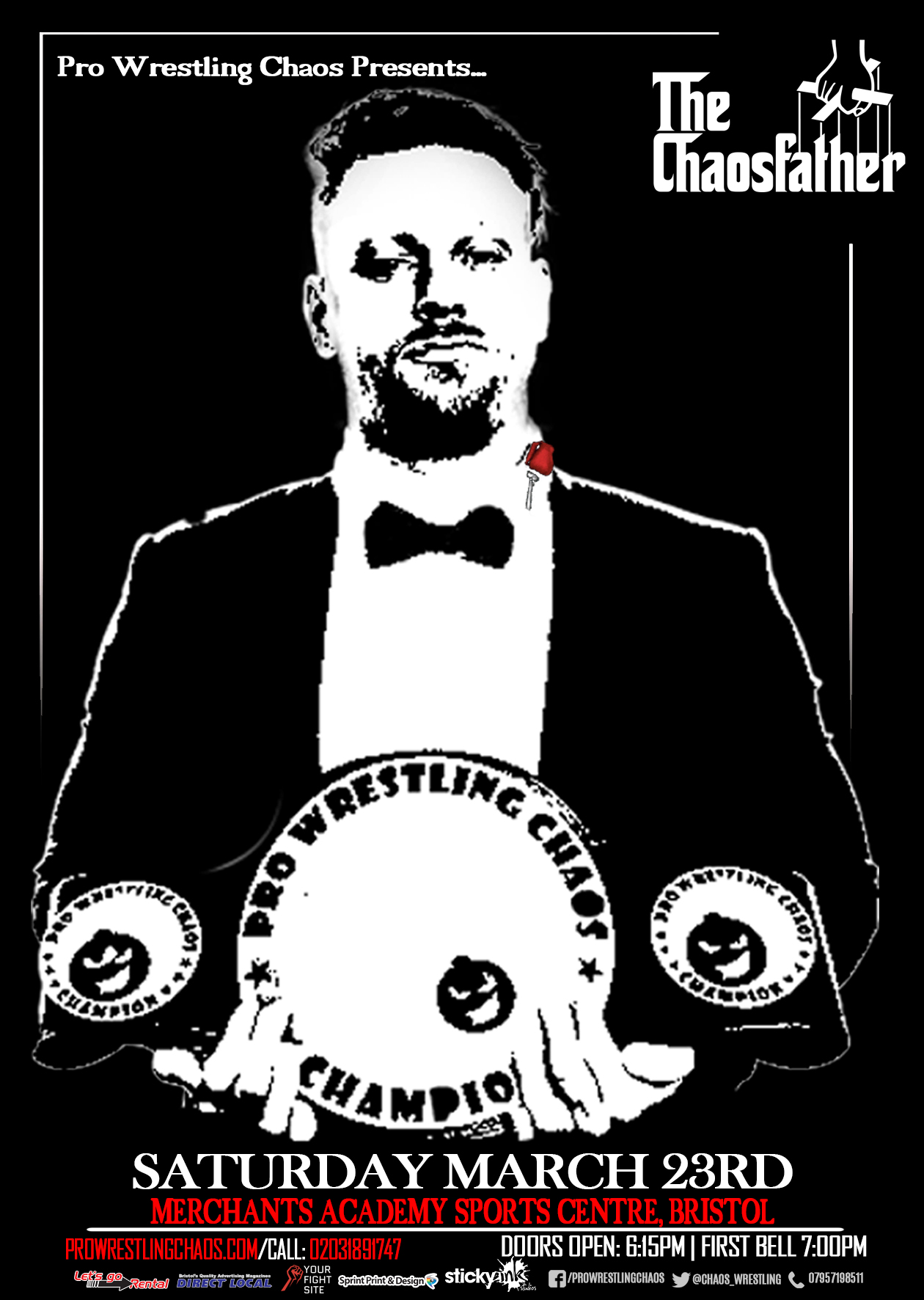 Please note the event line up is subject to change.
Featured Wrestlers
Promoter reviews
Pro Wrestling Chaos Presents 45 Shows Later
"Overall show was awesome! The Kings Oak academy was better than the venue in Bradley Stoke. The tiered seating worked well with the wrestler interaction. I had 2nd row seats, which were perfect for the show, albeit a bit constricted with the school tables behind us. Sound was good, not too loud or muffled, and the talent involved were spot on. Nice to see the female ring announcer and referee's involved in the show by looking scared when wrestlers around. Merch table was good, the bar could be better, but I wasn't there for that. Overall Chaos should be proud with a show that was solid from start to finish, well put together, promoted correctly and so easy to book, find venue, tickets, seating all excellent. Keep up the great work, we will hopefully be returning again. Even though someone crashed into my car on the drive home, and I look like I've been in the ring with Big Grizz, the night was fantastic! Oh and I finally got to meet Xia Brookside, I asked if she could be booked for the last show, so I'll take credit for that. This is chaos!"
Reviewed on 10/09/2018
Pro Wrestling Chaos: Chaos B Ballin'
"I didn't attend although I brought the tickets , my husband and grandson attended and they said they had a fantastic time , they came back full of excitement and talking about the event , they said they would go again , and it was good value for money an enjoyable evening had by them "
Reviewed on 20/02/2017
Pro Wrestling Chaos: All or Nothing
"I had a great time at this event. The wrestling was of a fantastic standard without a dull moment to be found. It was an occasion that did justice to the independent wrestling scene, with a great variety of matches and an abundance of in-ring talent. All of this, when coupled with the convivial atmosphere, really made for a great night. It also has to be said, that the chance to meet Hardcore Holly was one not to be missed. Not only was it a pleasure to witness such an important and experienced in-ring performer, he is also a genuinely nice bloke. A great night was had and congratulations are in order for everyone involved, for putting on such an excellent show."
Reviewed on 31/10/2016
Pro Wrestling Chaos Presents 45 Shows Later
"Brilliant show as always looking forward to the next 1. "
Reviewed on 11/09/2018
Bro Wrestling Chaos: UnBroLievable
"Incredible event every match was amazing. Can't wait for the next one. "
Reviewed on 05/06/2017
Pro Wrestling Chaos: All or Nothing
"great show as always"
Reviewed on 31/10/2016