Back to All events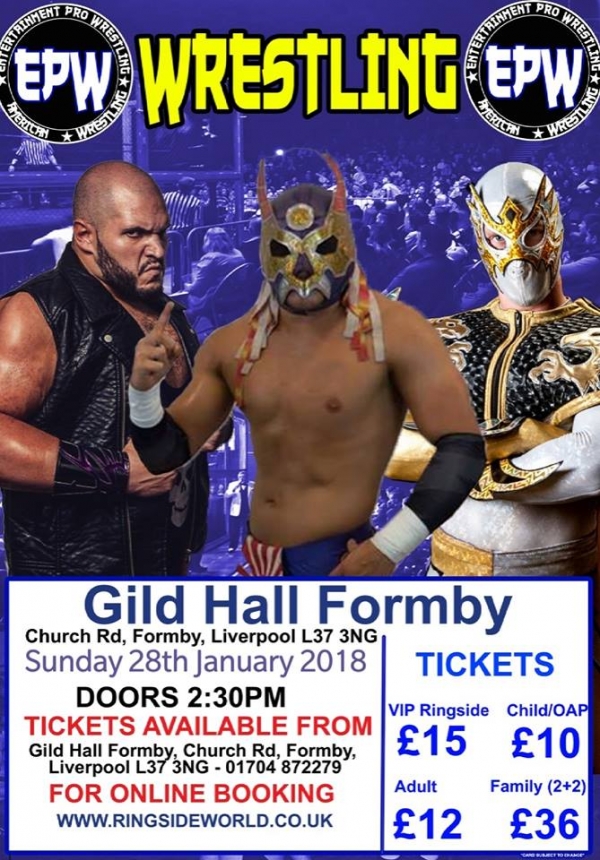 Event
2018 AMERICAN WRESTLING EPW FORMBY
When / Where
28th January 2018
THE GILD HALL , church rd, formby, l37 3ng
Event Description
Top class wrestling action
Promoter reviews
AMERICAN WRESTLING EPW CHESTER
"It was my lads first live wrestling event and he LOVED it. His favourites were Magnus and Pyro, Pyro for me stole the show he is definately one id like to see again"
Reviewed on 22/03/2017
AMERICAN WRESTLING EPW SHREWSBURY
"Fabulous show!!! My 11 year old son really enjoyed it!"
Reviewed on 18/05/2016
AMERICAN WRESTLING EPW SCUN-THORPE
"absolutely amazing night! would have been nice to have had longer backstage with the wrestlers but really enjoyed the show! cant wait for next time"
Reviewed on 04/09/2016
AMERICAN WRESTLING EPW CHESTER
"Hello there , this was my first time watching wrestling at northgate arena , been to a couple other venues to watch wrestling with my lad , we both really enjoyed it , I was creased , the only negative was the announcing , very echoy , but excellent apart from that...would defo go again... "
Reviewed on 15/03/2016
EPW SEAHAM
"I took my 3 kids on Friday night and it was our first time watching this show. The experience was enjoyable, even for myself who has been to two wrestlemanias and countless wwe events in the past. The interaction from the performers was good for the kids and was a really big aspect of what makes it a good experience for them. However the only negative I would say is each match had the exact same format, bad guy comes out first and antagonises audience and ref etc, then good guy comes out and they have a verbal back and forth in the ring and so on.. it certainly works but gets a little repetitive after the first 2/3 matchstick so maybe mixing the format up a little bit may improve. But on the whole we really enjoyed it and they want to go again. In fact I paid about £250 for wwe tickets for us earlier this year and I would say that they enjoyed this more then they did that! Thanks again"
Reviewed on 20/12/2015
EPW THORNABY
"This show was really good my son absolutely loved it. The wrestlers really got the crowd involved and it was non stop action from start to finish. Would definately recommend this to any wrestling fan."
Reviewed on 17/11/2015