Back to All events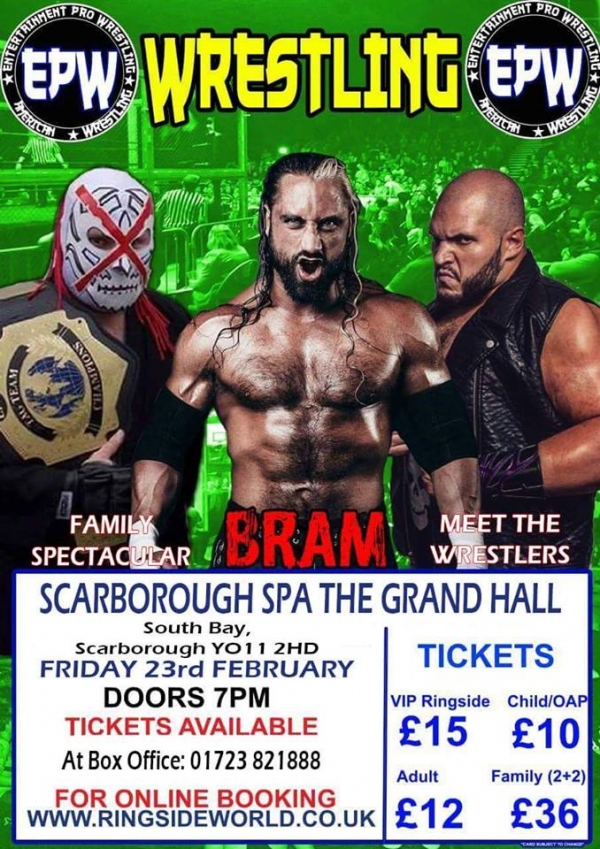 Event
2018 AMERICAN WRESTLING EPW SCARBOROUGH
When / Where
23rd February 2018
SCARBOROUGH SPA, South Bay, Scarborough, YO11 2HD
Event Description
TOP CLASS WRESTLING ACTION
Promoter reviews
AMERICAN WRESTLING EPW NEWTON STEWART
"I'd bought these tickets as a birthday present for my best friend, his friend and his son. They all had the best time and thought it was fantastic. Thank you for all the professionalism and hard work put into the event."
Reviewed on 06/08/2016
AMERICAN WRESTLING EPW SHILDON
"Absolutely brilliant and a night my son will never forget. "
Reviewed on 13/03/2016
EPW DARLINGTON
"I really enjoyed the show and my friends and I thought it was good value and good entertainment. Obviously some matches were better than others but I though the talent was decent overall. A little criticism for the ring announcer though, he was absolutely terrible! A few microphone/announcing lessons are in order I think. And the referee.... well, ahem! PLEASE have him carefully watch a few WWE/TNA TV matches for some ideas and tips from the pro referees. However, We though the whole show was pretty good and would certainly come back to see another one next time. Thanks!"
Reviewed on 29/08/2015
AMERICAN WRESTLING EPW CHESTER
"A really good show my daughter enjoyed it so much will definitely be returning"
Reviewed on 21/03/2017
AMERICAN WRESTLING EPW DEWSBURY
"Took my little lad (6) and he absolutely loved it. Will definitely be taking him again in October. Great show thank you!"
Reviewed on 06/03/2016
American wrestling Epw JEDBURGH
"I thought the show was brilliant and can't wait for them to come back to Jedburgh will definitely be going back."
Reviewed on 28/05/2016