Back to All events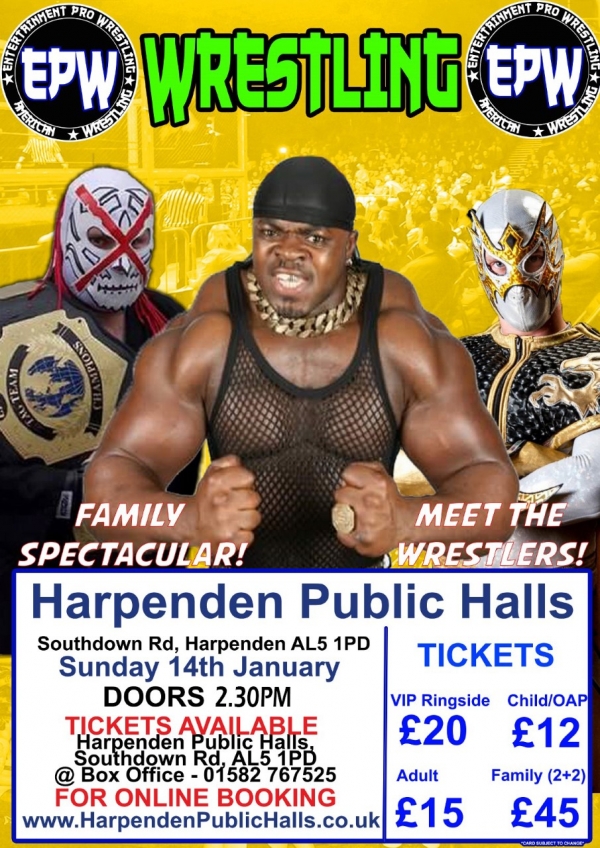 Event
2018 AMERICAN WRESTLING EPW HARPENDEN
When / Where
14th January 2018
THE PUBLIC HALLS HARPENDEN, Southdown Rd, Harpenden, AL5 1PD
Event Description
TOP CLASS WRESTLING ACTION SUITABLE FOR ALL THE FAMILY!
Promoter reviews
AMERICAN WRESTLING EPW SCARBOROUGH
"Good wholesome fun for the family."
Reviewed on 31/10/2016
EPW SALTBURN
"Great show which was well run, my child loved the show and the wrestlers had lots of interaction with the fans. front row tickets are well worth the money"
Reviewed on 06/12/2015
AMERICAN WRESTLING EPW ALFRETON
"Yet another amazing event ...was brilliant from start to finish 😊"
Reviewed on 22/05/2016
AMERICAN WRESTLING EPW WIDNES
"We had a fab night out at the wrestling in Widnes. I have one happy little boy who cant stop talking about all the wrestlers. Highly recommend. SUPER FUN. "
Reviewed on 05/03/2017
EPW HARROGATE
"Thoroughly entertaining few hours for both the kids and big kids alike. Shall be attending the next show and looking forward to it."
Reviewed on 30/09/2015
AMERICAN WRESTLING RADCLIFFE
"I really enjoyed this event after taking both my son's aged 6 and 4. Both are big wrestling fans and they loved the show. Good fun and a great family outing."
Reviewed on 29/11/2015