Back to All events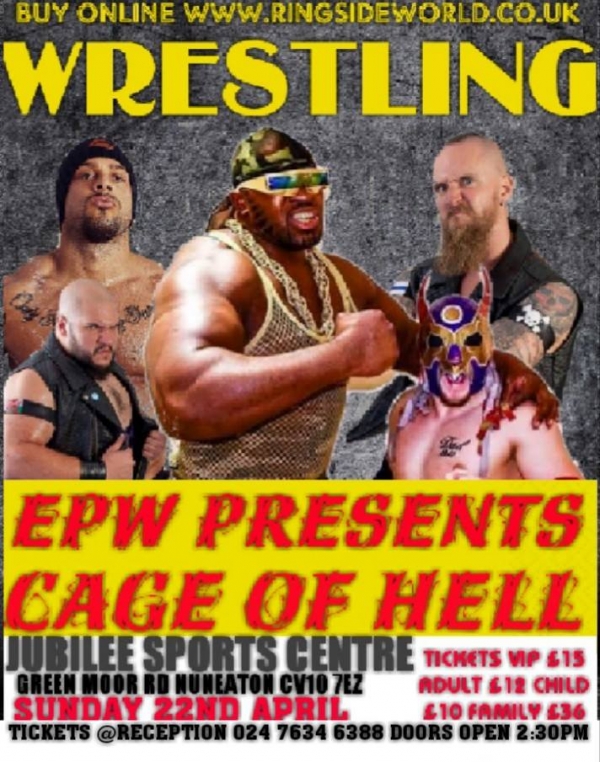 Event
2018 AMERICAN WRESTLING EPW NUNEATON
When / Where
22nd April 2018
JUBILEE SPORTS CENTRE, Greenmoor Road Nuneaton, CV10 7EZ
Event Description
TOP CLASS WRESTLING ACTION
Promoter reviews
AMERICAN WRESTLING EPW CLECKHEATON
"Great event family friendly fantastic night had by all. Can't wait until the next one."
Reviewed on 25/04/2016
EPW NE6 SUITE NEWCASTLE
"had a great time enjoyed the special touches my name on the seat really enjoy the show nice venue . "
Reviewed on 24/08/2015
AMERICAN WRESTLING EPW SCARBOROUGH
"My son went for his 11th birthday and he absolutely loved it"
Reviewed on 05/02/2017
AMERICAN WRESTLING EPW STANLEY
"Great event great show was very good especial the way Killjoy interacted with my autistic son. Big thanks to Bram & Ragnar for wishing him happy birthday. It was great for the wrestlers to gave cues for cheering & booing. Overall 100% guys 😀😃😃"
Reviewed on 16/10/2016
2018 AMERICAN WRESTLING EPW MANSFIELD
"It was off to a great start as we were let into the venue right on time, and the show started on time too. It was really well hosted, the announcer was very aware and considerate of the audience. It was a really enjoyable show, all the wrestlers were great and trying to get the kids involved etc. Definitely a good visit and would be happy to go again. On the negative, maybe some food at the half time interval, we got quite peckish!"
Reviewed on 20/02/2018
EPW SEAHAM
"I took my 3 kids on Friday night and it was our first time watching this show. The experience was enjoyable, even for myself who has been to two wrestlemanias and countless wwe events in the past. The interaction from the performers was good for the kids and was a really big aspect of what makes it a good experience for them. However the only negative I would say is each match had the exact same format, bad guy comes out first and antagonises audience and ref etc, then good guy comes out and they have a verbal back and forth in the ring and so on.. it certainly works but gets a little repetitive after the first 2/3 matchstick so maybe mixing the format up a little bit may improve. But on the whole we really enjoyed it and they want to go again. In fact I paid about £250 for wwe tickets for us earlier this year and I would say that they enjoyed this more then they did that! Thanks again"
Reviewed on 20/12/2015